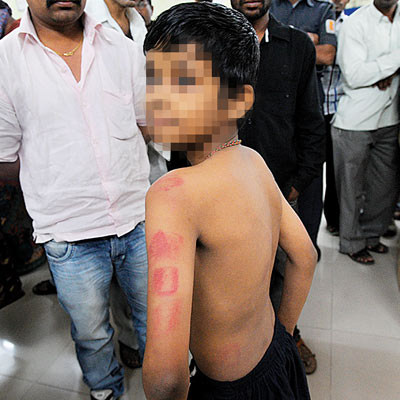 Pune: Angered that students of their school spoke in Marathi despite a school diktat that conversations should only be in English, the CEO of a school allegedly beat up boys on Wednesday afternoon, who spoke in Marathi and other local languages.Jitendra Singh of the Priyadarshini English Medium School in Bhosari was so angered by the students speaking in Marathi, he beat them with stick, ruler and beat them black and blue.
City-based NGP Childline received a call from one of the boys beaten up by Singh and a volunteer Sagar Gurav was rushed to help students lodge complaint with the police. Bhosari police said they had received the complaint and would take action upon investigation
A class VIII student who was beaten up told dna that they had a system where they were marked for speaking in any other language other than Marathi. "Each classroom has a language master who maintains a book, where a star is put across our name every time we spoke in language other than English. We don't remember all the words and so sometimes we use Marathi. There were 23 stars against my name. Singh started beating me and I pleaded with him to stop after I had been hit 23 times, but he still went on," he said.
Another boy who had nine stars against his name for speaking in local language, said, "Singh did not count as he went on beating. He hits us with whatever he gets in his hands. As the stick he was hitting with broke, he went on slapping, punching and kicking. He didn't stop even when I fell down writhing in pain."
Shockingly enough, Singh admitted to beating up the students but calaimed he was doing it so that children became better in English.
"The school is the second home for children and I am doing for their own betterment of children. At times they use cuss language and even slang which could shame girl students. This has been going on for last four years and I have warned them several times. When I learnt they were still doing it, I may have hit one or a two and may be just twice but not more than that. He added, "Two years ago, one of our former students was allegedly involved in murder case where he murdered a bright student from our school. I don't want that to happen again. I have nothing personal against these students, but if their parents aren't doing the needful, I believe it's our responsibility."
CD Bhosale inspector in-charge of Bhosari police station said, "The students along with their parent and Childline volunteers have approached us. We are registering the case and will invoke Corporal punishment sections under Indian Penal Code against Singh. The children have been sent to Yashwantrao Chavan memorial hospital for medical."