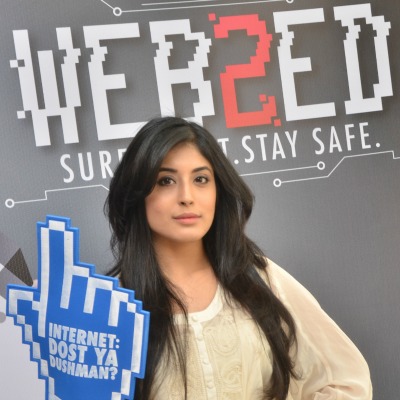 Television actor Kritika Kamra is the pretty host of the all-new season of MTV Webbed. She was in town recently to spread awareness about cyber-crimes and requested the youth to be super cautious to
avoid dangers lurking online. Heena Menon Grover catches up with her.
What inspired you to take up MTV webbed?
After having done some great work in fiction shows, I had been looking forward to similar breaks. When MTV Webbed 2 came my way, I knew I had to do it. I'm now all set to embark upon my first ever project as the host of a show, and I'm very excited. However, what is important to note is, that as a young actor who has a majorly young fan-following, 'Webbed season 2' is the perfect fit for me. It's a
show that reaches out to the youth and talks to them about their world, their life and their relationships which today, are all online. To host a show that connects directly with my own personal fan-base, I think is a step in the right direction for me.
You were in Pune recently for the promotion of the show, how did the crowd respond to the show?
The crowd's response was phenomenal. I was at a mall where we had young people participating in a flash-mob contest about cyber-crime. The turnout of people at the mall was very encouraging. I'm thankful for all the love being showered upon me by the people of Pune.
Pune being a city of young people, especially college goers who come here from every part of the country, what message would you give out to them about cyber-crime?
We all live our lives online these days. We're constantly connected, always sharing, posting, liking, adding pictures…our lives are literally lived through status updates. The internet is a wonderful
place which provides us with information and entertainment but at the same time, it is essential to arm oneself with information that will help us protect ourselves online.
Do you feel cyber-crime as a subject should be made compulsory in schools/colleges?
We have computer lessons in schools. If not a whole subject, we definitely need to include a few chapters on cyber-safety which could help children and youngsters keep themselves safe online. A basic
understanding of what messages to open, how to set up privacy settings on social media platforms, basic do's and don'ts could probably help prevent a lot of unfortunate situations.
Do you have any anecdote to share where you or anyone close to you had to face cyber-crime?
As a celebrity, I've had my share of irate fans, people who post hate comments and who can sometimes act a little creepy. But otherwise, I've not personally experienced any extremely negative or scary
situations online. But yes, I've heard about colleagues from the TV fraternity whose pages have been hacked, phone numbers been leaked and all sorts of scary things. It is hence important for all of us to be a little cautious online.
A lot of TV actors have tried their luck in Bollywood, such as Yami Gautam, Ayushmann Khurana, and many more. Bollywood calling?
As of now I'm pretty excited about my current project with MTV. There's a movie project lined up but the dates aren't fixed yet.
Your thoughts about Pune?
I keep coming to Pune. I have friends here. I absolutely love this city for its youthful energy and vibrant culture.