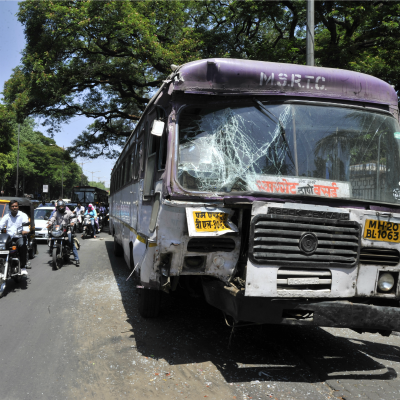 Pune: After witnessing number of accidents by Pune Mahanagar Parivahan Mahamandal Limited (PMPML) buses because of failed brakes, this time it was a Maharashtra State Road Transport Corporation (MSRTC) bus that rammed two vehicles for the same reason, at Shivajinagar on Monday morning. Though no casualties have been reported, the mishap resulted in massive rush-hour traffic jam that lasted for over an hour.
When the bus reached the Shivajinagar Chowk, the driver tried to stop the bus, but the brakes failed to work. The bus dashed another city transport bus and a stationary autorickshaw before coming to a halt.
Inspector Neelam Jadhav, in charge of the Shivajinagar traffic division said, "It took us 45 minutes to bring a crane and get the bus out. There was very slow movement of traffic for an hour or so, but we tried to clear it as soon as possible."
Suyog Jadhav, was one of the citizens stuck in the jam said, "Already there was a lot of vehicular movement being peak hours, and the accident just added to it. We got stuck in that area for a long time, as the bus blocked the road"
Meanwhile, the Maharashtra State Regional Transport Committee (MSRTC) seemed to be unaware of it. "There is no report of any accident due to brake failure yet, but if there is any, we will take necessary actions. We consider bus safety seriously and carry training programs for drivers regularly for safe driving," the MSRTC official said. A case has been registered with the Shivajinagar police station, where the driver has been taken under custody and has been charged for rash driving and risking the life of others.