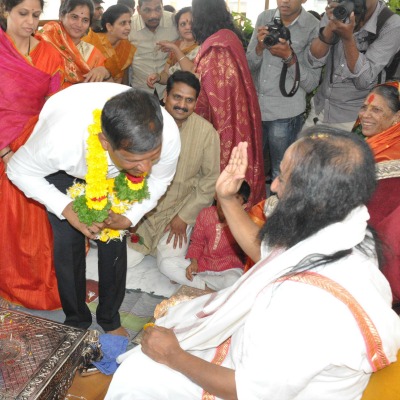 Pune: Spiritual guru Sri Sri Ravi Shankar visited MLA Laxman Jagtap's house at Pimple Gurav and blessed him on Saturday morning. He praised Jagtap for his work and said that the politician has spiritual base and contributed to the development of the city.
Jagtap and his family members touched the feet of the guru and sought his blessings. The MLA along with his wife also offered 'padyapooja' (washing the feet) to Ravi Shankar.
Jagtap has been an active member of Ravi Shankar's 'Art of Living' and had invited the spiritual guru last year by organising a big programme.
Sitting Shiv Sena MP Gajanan Babar who has left the party and announced support to Jagtap was also present during Ravi Shankar's visit. MNS leaders Umesh Chandgude, corporator Seema Sawale, Sharada Babar, former corporator Nana Kate, builder Anand Jog too sough blessing of the guru. Ravi Shankar wished Jagtap success in the Lok Sabha elections.