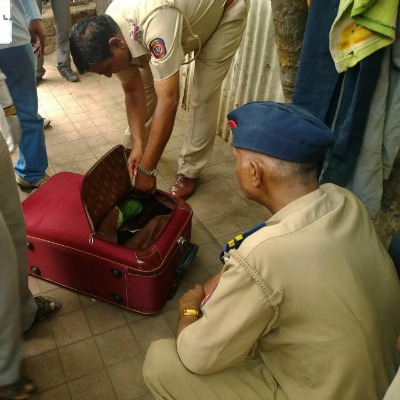 With the help of images being circulating on social networking site has help police to cracked down the murder mystery of a woman deadbody found in isolated area in Kharadi last week.The woman has been identified as Anuradha Kulkarni (21) by Yerawada police and have arrested her live-in partner Prashant Suryawashi (23) in this regard. Suryawashi is autorikshaw driver and was arrested by Police on Sunday night from Gujrat. He was sitting in temple and had change his hairstyle.
Deputy commissioner of police (Zone IV) Manoj Patil said, "Deceased Anuradha worked in Camp based garment shop. Her identity was revealed after her deadbody images were circulated on social networking site. On of her female colleague working in the shop identified her image, she along with four other staffers approached Cantonment police station. On this clue our investigation started. We even check with Mundhwa police if there was any missing complaint registered. Our team went to Anuradha's house and found it locked. Even try to contact arrested person but the phone was not reachable."S A Patil inspector in-charge of Yerawada police station said, "Anuradha hails from Latur after her mother's death and father started staying with another lady. Later for job purpose she came to Pune and met arrested person who is autorikshaw driver. Both started staying together and were in live-in relationship as she was minor. Prashant suspect she is having illicit relationship with another person on which both use to have fight."
He added, "On last June 27, night both had a fight and later he hit her and later press her neck so hard and she died. Entire night, he kept the body and change the clothes and wipe her body so that there will be clues. He purchase suitcase kept her body in it. Took a hired autorikshaw till Kharadi, dump the body and later went to Nashik. From Nashik we came to know he had went to Gujrat and was staying in a temple."