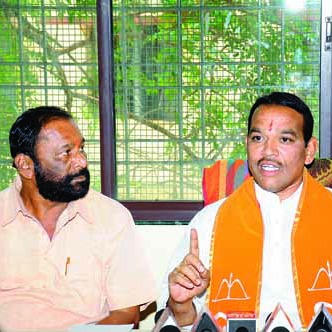 Pune: Whether Shiv Sena candidate Shrirang Barne was happier about his first stint in the parliament or about beating his arch rival Laxman Jagtap from Peasants and Workers Party (PWP), who quit the National Congress Party (NCP) before polls, is something only he knows. But after a thumping victory with a 1,57,397 votes margin, reasons don't matter.
Barne scored sweet revenge over Jagtap, who beat him in the last assembly elections, with 5,12,226 votes against Jagtap's 3,54,829 votes. NCP's Rahul Narvekar staggered behind with 1,82,293 votes. Interestingly, over 11,178 voters exercised the NOTA (None of the Above) option in Maval, picking no candidate.
A close contest in the beginning
What started out as a close contest between the two bitter rivals, from late morning itself victory for Shiv Sena candidate Shrirang Barne became apparent with him maintaining a lead in every round of counting.
In the fourth round, Barne was leading with 71032 with Jagtap trailing a close behind at 63853 with a margin of 7179 by fourth round. The equation changed by tenth round when Barne stood at 196241 votes polled in favour against Jagtap's 138733.
After the 17th round when the margin increased further, Barne's supporters started shouting slogans for his imminent victory and were in fact reprimanded by local police for doing so.
"The voter is king and they have destroyed evil power of money which was used as a tool to lure them. After my failure in last Assembly elections which was won by Jagtap who used bogus voting, I got blessings from many prominent leaders of different parties. I will remain a loyal party worker and will work for Maval's development and have no aspirations of getting a ministerial berth. Now that I am an Member of Parliament, I will work on pending projects like railway junctions, airport issues, red zone area and illegal constructions," said Barne after his victory.
An embarrassing defeat for NCP
The most embarrassing defeat was for NCP candidate Rahul Narvekar and AAP candidate Maruti Bhapkar. Narvekar who was earlier the ShivSena spokesman had withdrawn his candidature from the Maharashtra Legislative Council elections prior to elections and joined the Nationalist Congress Party (NCP) to contest the Lok Sabha election on the party's ticket from the Maval constituency. He came third with a total of 182293 votes polled in his favour.
Speaking to press, AAP candidate Maruti Bhapkar said, "Despite our party being relatively new, we got people's support though we didn't have neither money nor muscle power. We have made a beginning at least."
An interesting contest..
The Maval constituency had seen many ups and downs with established party leaders leaving the party within weeks of the poll campaigning. Narvekar's entry and subsequent decision of party to give him a ticket had irked party MLA Laxman Jagtap who was hoping for the seat and the move prompted him to leave the party and contest on a PWP ticket.
For Sena too, the seat wasn't easy with MP Gajanan Babar getting irked by party decision to field Barne and refusing to give him a ticket. He had announced his decision to support Jagtap. However the slight majority that Barne has recieved has come in as a good news for party loyalists whose decision to stick to the party candidate is proving worthwhile.