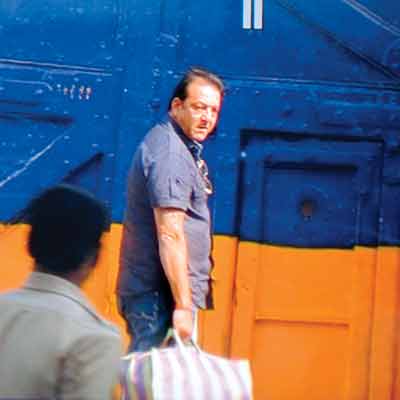 It was a low-key birthday celebrations for Bollywood actor Sanjay Dutt in Yerwada jail on Tuesday. The actor could not meet his relatives on his birthday as it was a holiday for jail on the occasion of Ramzan Eid. However, Dutt received 55 letters from his fans as he turned 55 today. His family has also sent him a greeting card.
Dutt was convicted by TADA court in Mumbai in April, 2013 after the Supreme Court convicted him in the Mumbai 1993 bomb blasts and sentence him imprisonment for 42-months. He is severing his imprisonment in Yerawada central prison from May, 2013.
This is the second consecutive birthday of Dutt which he is celebrating his birthday in prison. Last year after his birthday his wife Manyata had come to meet him but this time being Ramzan Eid Jail had holiday and there was no arrangement for family for meeting the relatives. Last year, on his birthday, Manyata had tattooed his name on her finger and this year she has kept a puja. Three weeks back, Dutt sister Priya had come to meet him in jail.
A jail sources said, "On Monday itself Dutt had received some 56 letters including his fan and his wife's letter along with handmade greeting card by children. 55 letters are written to him by his fans who wished him Happy birthday and some of the letters there are phrases, Dutt sketches, his dialogues and motivation talks. On Tuesday, Dutt got up around 6.30 am for his break-fast and was reading his wife letters and children greeting card. Today he had holiday for his work and prefer to be alone. He was weeping and reading the same letters repeated times."
He added, "On Tuesday, jail inamtes have a special menu as they are going to be served Sheer Khurma for lunch and dinner. Dutt did not had his lunch properly and did not smoke. Later in noon found writing letters to his wife and was chanting god names. When asked the reason he claimed his daughter is unwell and praying for children long life."