Traffic police's move creating inconvenience to commuters at the Pune University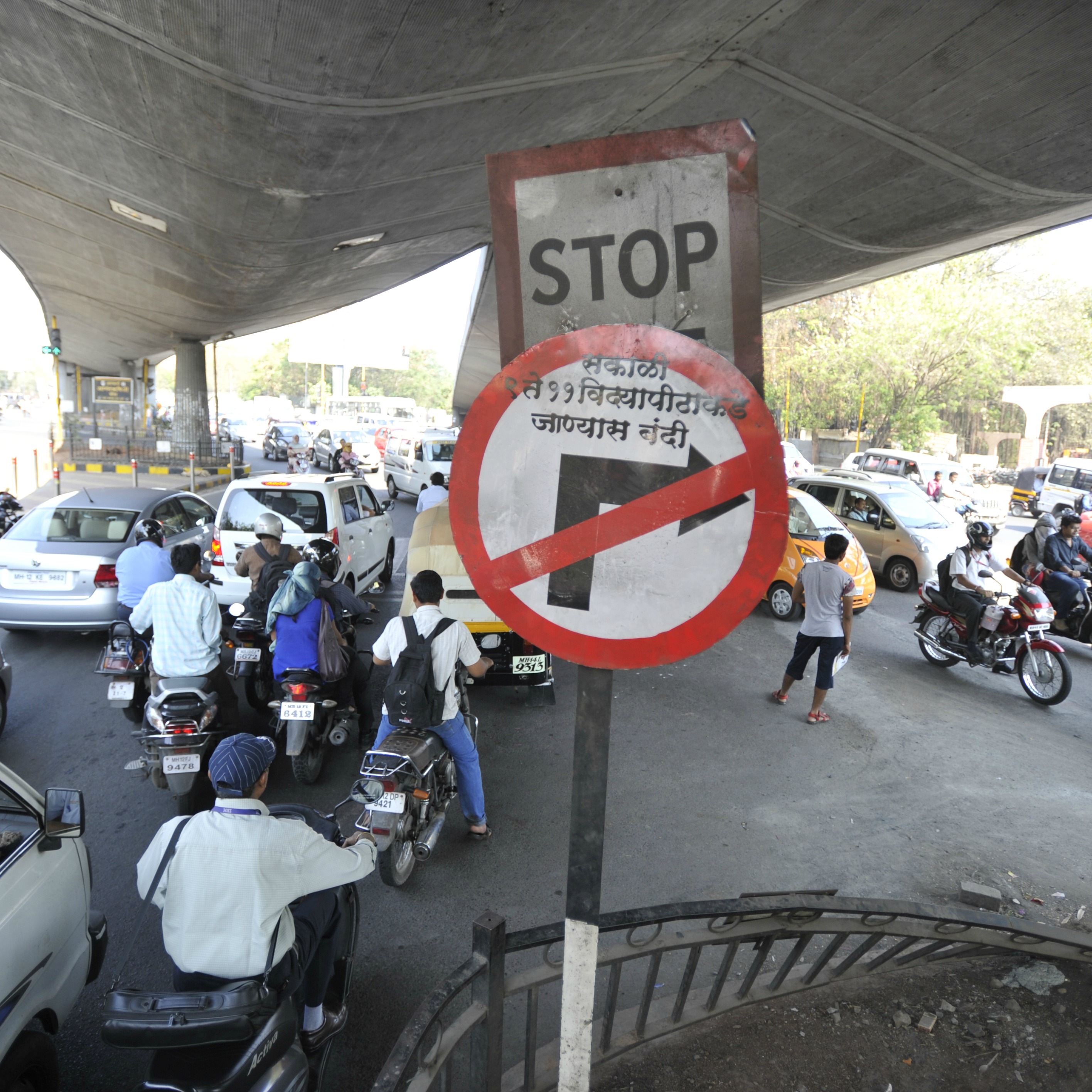 Pune: For the commuters taking right turn from Ganeshkhind road to enter into the university, it is still better as the turn is banned only from 9 am to 11 am. But for the commuters coming out from the university main gate and going towards Aundh, Baner or Pashan, it is a major problem. The right turn is shut throughout the day, forcing them to turn left and take 'U' turn from the junction where Senapati Bapat road meets Ganeshkhind road.
Same old story
The university junction is one of the most crowded junctions in the city, with vehicles coming from Shivajinagar, Aundh, Pashan as well as Baner converge at the junction. However, even after spending crores of rupees in constructing a flyover, there has been no improvement in the traffic situation in the junction. Even the deputy chief minister Ajit Pawar had criticised the design of the flyover.
Reality check
Team dna visited the UoP junction for a reality check. They found out that commuters travelling from Shivajinagar and Senapati Bapat Road have to travel extra towards Aundh and spend nearly 20 minutes more and take 'U' turn from Raj Bhavan before they could actually reach UoP. Before implementing the order, the traffic police had received over 500 suggestions and objections where citizens, and the college students had strongly opposed this move. College students have been the worst affected by this decision.
Traffic department's take on it
The traffic police department claims that they have made several changes in the traffic signal of the UoP junction as nothing was working. Deputy commissioner of police (traffic), Vishwas Pandhare said, "On citizens' request we have carried out a three-day experiment, wherein all the right turn signals were on for 25 seconds. But it created a traffic havoc at the junction."
Expert's take
According to an official of Central Institute of Road Transport (CIRT), "Traffic department should carry out the vehicular study and decide on the directional flow to make the necessary changes. As there will be merging traffic moreover while making the changes all these things should be taken into consideration."
Vox Populi
Harsh Waghmare (20), student of B.Com first year said, "It is a nightmare as we have to wait at the traffic signal and then travel extra mile and come back again to the UoP junction, because of traffic department ban on right turn we are force to waste extra money on fuel by travelling more than two kilometre extra everyday."
Sayani Gaikwad (21), student of B.Sc third said,"Even after reaching before time I get late for my lectures as I have to travel extra and in the process I get stuck in the traffic snarl at UoP junction everyday."
Vikram Bhide (23), an MA student said, "Instead of making junctions free from traffic snarl the city traffic department is making it worse by implementing such rules. It takes more than 20 minutes for me everyday to take the 'U' turn and reach my office, there have been instances when I was marked absent for the first half of the day."