Deccan Gymkhana Parisar Samiti (DGPS) consolidated over 50 mails by citizens to compile a list of the most pressing issues; corporators assure quick action.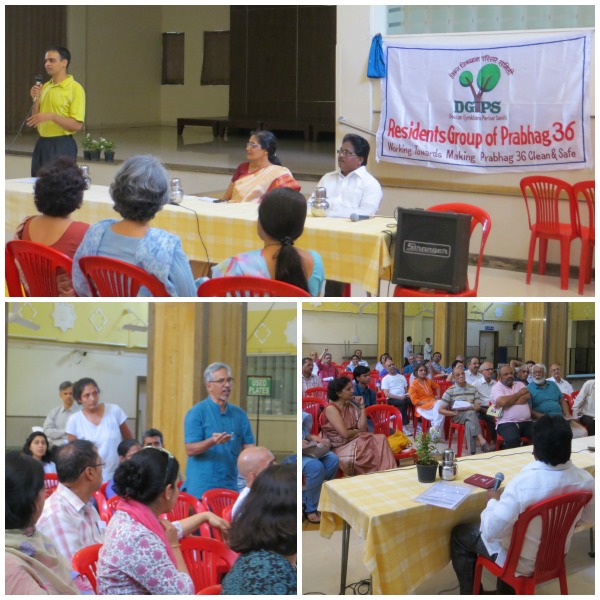 Plagued with issues like unruly traffic, blocked drains and everyday garbage collection hassles, residents of Ward 36 i.e. Deccan area demanded answers from local elected representatives at an annual meet of citizens and corporators of the ward held on Sunday. Issues that were taken up on priority basis included traffic management, parking problems, area cleanliness and transparency of operations of civic affairs.
Corporator Madhuri Sahasrabudhhe addressing the residents at the DGPS annual meet
Most of the residents of the ward had common issues related with parking congesting the smaller streets, traffic management problems and construction of new roads, drainage lines and pavements without any prior information provided. "The smaller streets of the area are always congested with two wheelers parking making it difficult for the pedestrians and other residents too. There are cars parked in the no parking zones too in the streets meant only for the locals," said Gopalkrishna Phadke, a resident present in the meet.
Corporator Maduri Sahasrabuddhe added, "We will plan a parking system and implement it as soon as possible. As far as the traffic management and new constructions are concerned, we will look into the matter personally."
Residents at the annual meet of citizens and coporators of ward number 36
Dr Sandip Gore a resident of Prabhat road like many others raised alarm over unfinished road works on the Karve Road Junction."The pavement outside my house is always under construction for the past 3 years," he said. He also complained of unmonitored parking right outside his house gate, he further added, "The corner is neglected by the corporators and it is becoming a problem for us to live there". Corporator Anil Rane assured Gore that he would personally visit the road junction and take the necessary actions.
Citizens also raised concerns over the lac of communication from the corporators. It was brought to Rane's notice that while he has a Facebook page and a website update citizens, it lacked up to date information and contact details rendering it of no use to residents. Rane acknowledged the shortcoming and promised to make changes however did not mention a date for doing so. He said, "I also assure the problems of traffic management and construction of necessary pavements and roads will be completed soon."
Residents expressing their woes to the corporators
Corporator Madhuri Sahasrabuddhe added, "I will have a website and Facebook page within two months and assure that the complaints are addressed at the earliest".
Discontent with just assurances, citizens demanded for action at the earliest and also suggested for monthly meets instead of just an annual one.
Some of the important problems discussed by Citizens:
- Immediate need for co-ordination between the agencies ( WHICH?)
- Stricter implementation of rules is needed like ban of plastic bags
- Immediate repair of footpaths.
- Cleaning up of debris and rubbles from the completed construction sites of roads and pavements.
- Implementing of a system to ensure Transparency between citizens and corporators
- Parking arrangements near restaurants and clubs like Pune Youth Club (PYC) and Deccan Gymkhana.
- A pickup arrangement for garden cuttings of bungalows and residential complexes to reduce garbage disposal problems
Citizens sought the following assurances from the corporators, which the corporators said they would keep in mind.
Will ensure that there's a drainage and water lines master plan for the Prabhag, including information about connections.
Will ensure that every project undertaken will have a detailed board stating all information as required as per the law/PMC rules
Will invite people's suggestions at least 15 days before work starts for all projects.
Will make public/share detailed information including final design plans, tenders and budgets at least 15 days before work starts
Will ensure that all project information and accounts for each quarter are available on their website and/or facebook
Will not put up any illegal flex/banners
Will ensure that all footpaths are evenly built, free of encroachments and without any steps at buildings / junctions.
Will ensure that the roads and footpaths are Sr. Citizen and Wheelchair friendly
Will ensure that Zebra Painting, Tree Trimmings and Lane Markings are done at regular intervals, without any followup from residents
Will ensure that roads are not built by just adding new layers on top, but by digging up the existing surface with consideration to the level of surrounding buildings.
Will ensure enforcement of parking rules in our Prabhaag by coordinating with PTP.