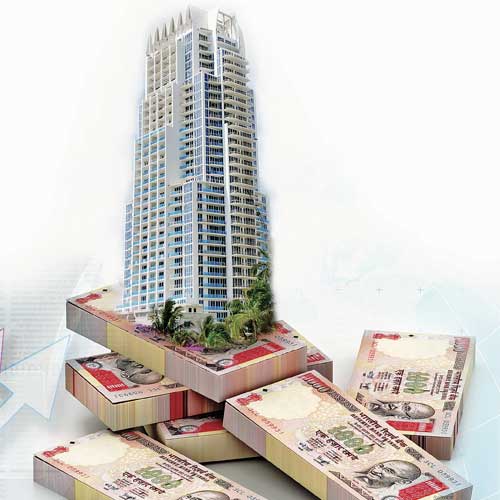 Pune: In the first quarterly report of the year on buying and rental price trends in seven major cities of India submitted by a real estate website 99acres.com, the city of Pune is experiencing an increase in the per square feet rate by approximately 4 per cent. While the website report claims to have major highs and lows in the property price rates of some prominent areas of the city, the city based builders and construction companies say that the report is not very accurate.
The business head of 99acres.com, Vineet Singh said, "As the city grows to be the second biggest IT hub, there is a constant flow of professionals coming in for employment. We expect that there will be a hike in the rates in the coming months". The website has shown a major increase in the per square feet rates of areas like Hadapsar, Aundh, Katraj, Baner – Pashan link road and Katraj Kondhwa Road. When a few prominent builders were asked about this, they said that the figures shown are over-hyped.
"The suburb areas are developing, but the rates have increased by 2 per cent at the most because of change in government policies, bank rate interests and taxes. The rate has been in between 6000 to 9000 per square feet for the past year in such areas especially Hadapsar and Kharadi," said Dhananjay Paghpor, Chief Operations Officer (COO) of DSK Developers Limited who have an ongoing project in Hadapsar. He denied the reports of 99acres.com which mentioned an increase of rates in these areas by more than 10 per cent.
While the report also show an average decrease of price rates in the areas of Pimple Gurav by 36 per cent in the first quarter of the year, the owner of Chandrarang Developers, Shankar Sheth Jagtap said, "The rates have been fluctuating from 4000 to 5000 rupees, but any decrease of more than 20 per cent is bizarre and can be of people either wanting to re-sale their flats or of builders who are seeking immediate cash flows due to personal needs."
The Marketing Head of Paranjape Schemed Limited, Hemant Chhatre said, "The reports that have come out is of a small sample size survey and in no can it represent the market condition of the city or be used to predict the trend of the city." He also added that listings on various websites are of re sale flats and the rate of every re-sale flat depends on the individual owner which does not effect any prices in the construction market. Hence, customers need not go according to these reports and trends as they are quite arbitrary.