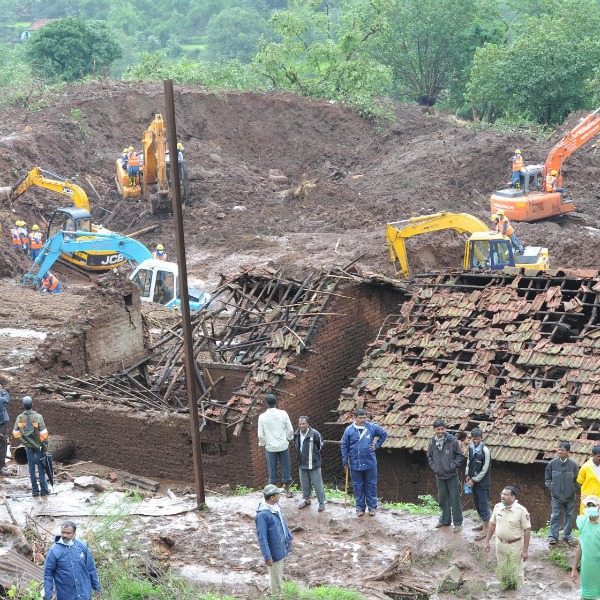 Pune: After over three days of wait, relatives of those still buried under the mud and stones in Malin, have started losing their hope. Be it a 50-year old Tarabai Thokal, who claims to have lost at least 50 people or a 20-year old Shamal Garware, they just want to see their beloveds one last time so that they got a sense of closure.
Thokal was with her State Resreve Police Force unit in Hadapsar, Pune when the news channels started flashing landslide in Malin. She took the first available vehicle and rushed to Pune only to see the village that housed her parents, four brothers, their wives, their kids, uncles and even grandmother covered under slush and mud.
"Sab barbad ho gaya ( everything has been destroyed ) and there is not much left for me besides my two children who stay with me in Ramtekdi," she said. Tarabai's family was engaged in paddy cultivation during monsoon and were dependent on agriculture as their sole means of livelihood. Tarabai said that the village had weathered many a storms and had been lashed by incessant rains for countless number of times but never thought that something like this could happen. "We have known the hill like the back of our palm and never thought that it would betray us," she said.
For 20-year old Shamal, the memory of playing with her uncle's son who hadn't even learnt to walk, is so strong that she can't stop tears trickling down when she looks at the house that still stands buried. "I used to play with him in the verandah. I wanted them to come to city," says Shamal who lives in Pune with her parents.
Her grandfather, grandmother, uncle, aunt and three cousins – one of which was just a year old still remains buried in the landslide.
She could not control her tears when she realized that there was no hope of finding any of her family members alive again. All she could say was, "I will never return here, who should I come for? All that I had here is taken away. I want to see them just once, if it's possible," wailed Shamal.
The loss shocked her so much that she fainted and had to be taken to a near-by hospital immediately.
For Gorakh Pote who works in the State Reserve Police Force (SRPF) at Daund it's no different. "I lost my parents, wife and two children in this incident. I no longer have anybody in the village. I do not know who should I live for," said Pote.
With no member of the family alive, Pote is devastated and doesn't know what he should do next. "I found the bodies of my wife and children, but my parents are not found yet. I wish I at least get the chance of cremating them,"