Only one room restored, though the government sanctioned funds of `1.48 crores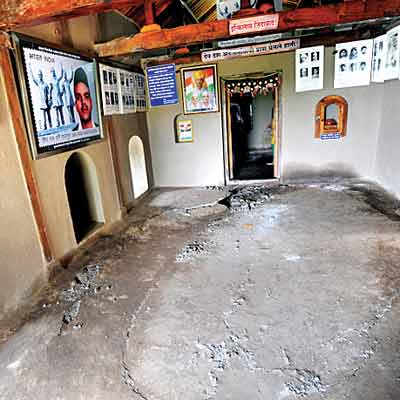 Pune: We enjoy the freedom that they gifted us, and we celebrate their victory. But sadly many of those who gave up their lives get a day's honour, and nothing is followed in deed. As the city observed martyr's day on Sunday, Rajguru's house in Pune continues to be in shambles. For years, his family has been repeatedly informing concerned authorities about the dilapidated state of Rajguru's ancestral home, but their pleas fell on deaf ears. In 2007, a fund of Rs1.48 crore had been sanctioned, but only Rs 5 lakh has been utilised to restore the house, in which they have only worked on Rajguru's room. When asked about the current the state of affairs, the family claims that elections are the latest excuse given by archaeological department for delaying the work

The ancestral wada of Shivram Hari Rajguru is a grand, stone structure standing on the banks of Bhima river on the Pune-Nashik Road. Spread over 2,788 sq m land, it has a protective stone wall, a grand arch door (dindi darwaza), the main house building (thorla wada), a prayer room, the room where Rajguru was born and a Hanuman temple built by Rajguru himself.

Satyasheel Rajguru great grandson of Shivram Hari Rajguru said, "Despite the funds being sanctioned, the amount is not being ulitised for renovation of the house. We had given possession of the house in 2008 so that the government can restore the asset. Only 10 per cent of the work is done. They have partly rebuilt my great grandfather's room two years back. But now everything is lying in ruins. Every year, on Martyr's day, they realise the work is incomplete and then they assure us until the next Martyr's day, work will be complete."

Satyasheel further added, "We are not entertained by the officials, they claimed that after the elections, work will commence. We think due to the code of conduct the renovation is kept pending."

V N Kamble, assistant director of Archaeological department denied that the work has stop due to election's code of conduct. He claims, "The renovation work is given on tenders. The contractor was held for deficiency in work, and we took away his contract. Later, we had made a proposal to villagers, if the gram panchayat is ready to do it. But we did not got any response. So we advertised in the newspapers and have gotten a good response. We have finalised one contractor and after 15 days the work will begin.