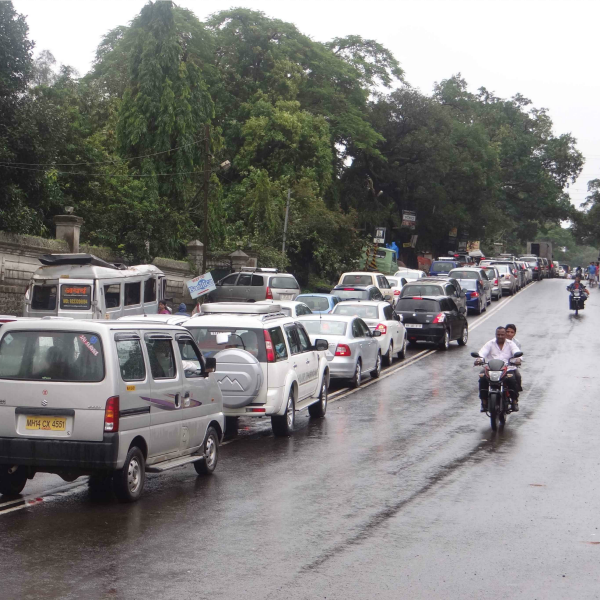 Pune: The enthusiasm of tourists from Pune and Mumbai resulted in traffic jams in Lonavala as incessant rains put the brakes on the traffic flow towards the hill station. Tourists ended up spending hours on the road expecting either to reach the vacation spot or return to their homes.
There was a huge rush of vehicles from Pune and Mumbai to reach Lonavala. Some visitors had to face traffic especially at the peak hours from 10am to 1pm. "It was the weekend and it was raining. Cars, buses and heavy vehicles were driving slowly which resulted in traffic. Right before the Lonavala exit we had to wait for a few minutes to pass through," said Pranali Kolekar, resident of Chembur in Mumbai who was travelling to Lonavala with her family.
A group of friends from Pune left for Lonavala around 4am to avoid any traffic. One of the group members, Arnav Varier said, "we left early morning. Though there was no traffic on the expressway then, there was heavy rainfall on the hill station which made the drive difficult. The sight seeing places, especially the Bushi dam was packed with people. On returning in the evening, there was a rush higher than normal towards the city."
The rest of the state observed a weakened rainfall activity. "The cloud cover has reduced over the state in the past week. Though there was vigorous southwest monsoon activity over Vidarbha, it has also reduced now," said the officials at Indian Meteorology Department (IMD)
In the next three to four days, revival of monsoon is expected with the prediction of formation of low pressure belt. The officials added, "The El Nino effect has reduced from 80 per cent to 50 per cent. This will help in the revival of monsoon as there are chances of a new low pressure belt forming. The belt will increase rainfall activity over the western coast of the country including Maharashtra."
For Pune city, though the month of June was driest, rains till 27 July were recorded to be over 100 mm. In the next 48 hours, the met department has predicted low to moderate but intermittent spells of rain in the city and adjoining areas.