250 artistes celebrated their humble beginnings, as the contest completes 50 years of existence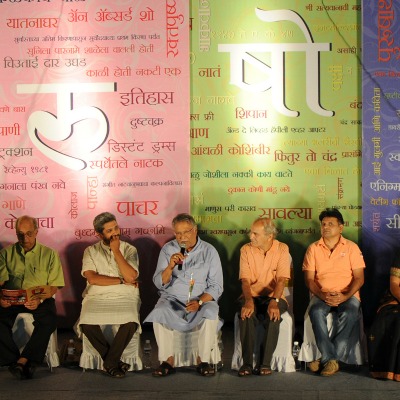 Pune: It was a nostalgic evening for 250 artistes, who took their nascent steps into theater and subsequently into the limelight through the Purushottam Karandak one-act play competition. Veteran actors caught up with their co-actors several years later and recounted interesting nuggets from their college days.
Artists on the podium included Vikram Gokhale, Ramesh Bhatkar, Madhav Vaze, Mrudula Bhatkar, playwright Dr Satish Alekar, Sushama Deshpande, Yogesh Soman, Prasad Vanarase, Girish Kemkar, Abhiram Bhadakamkar, and Pravin Vitthal Tarade.
The get-together had been organised by Maharashtriya Kalopasak, which has been conducting the competition for the last 50 years.
The competition is responsible for introducing actors, and directors such as Jabbar Patel, Vikram Gokhale, Mohan Gokhale, Sonali Kulkarni, Upendra Limaye, Subodh Bhave and many others to the world. Mrudula Behere, wife of actor Ramesh Bhatkar who acted on the stage too is now a well-known judge, who heard the infamous Jalgaon sex-scandal case. Irrespective of their ongoing association or parting of ways with theatre as a medium, they all cherished their Purushottam days on Saturday evening. Compere Sudhir Gadgil has also been associated with Purushottam.
Vikram Gokhale revealed that Purushottam was his stepping stone to theatre, he faced his first audience in the one-act play titled 'Raadhey'. Alekar said that Purushottam Karadak defined one-act plays and theater on the a tool for expression. Mrudula opined that her days in Purushottam offered her friendships and love that acted as a fillip for her life's journey. Tarade said that this competition made him understand humanity and gave him a serious perspective about theater.