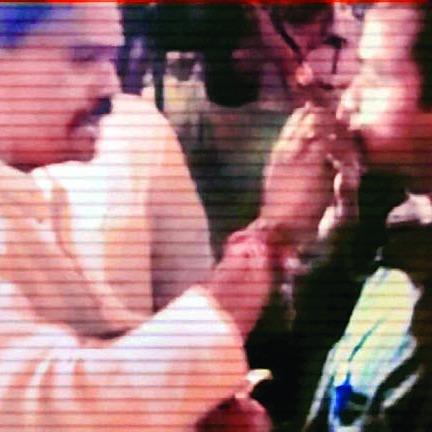 Shiv Sena is known for its hooligan behaviour. By force-feeding a supervisor of the IRTC canteen at Maharashtra Sadan in New Delhi, Member of Parliament Rajan Vichare has only reiterated his party's reputation. Even when the supervisor kept saying that he is fasting because of the ongoing holy month of Ramzan, Vichare did not refrain from doing what he did. dna asks readers if his behaviour is pardonable?
Don't make it an issue
It is not right for a Lok Sabha MP into behave unruly and create ruckus. The IRCTC supervisor at the Maharashtra Sadan, was wearing his identity card, which bears his Muslim name. How can Vichare not see this ID card and deny that he was unaware that the supervisor was a Muslim. He should have hurt someone's religious feelings. However, now when he has regretted his behaviour and has apologised, we should not make an issue of it and give it a religious or communal connotation. There is no need to demand his resignation, when he has apologized. It is a small incidence and lets not make an issue out of it and give it a communal turn. Some people are trying to make a political issue, which is not healthy. The person has apologized for his behaviour and it should end there.
Azhar Warsi, Member, State Advisory Committee, Jamaat-e-Islami Hind
Vichare has a long history
This is not a new action for the Shiv Sena people. It is not against any religion as of yet, as there is no proof against it but there is definitely a mentality to assert ones power over the weaker. Vichare has 13 cases filed against him and the other Shiv Sena workers have cases against their name too, so when for a long time they were not under the limelight something had to be done- so this act. They cannot let go of their negative identity. Vichare and for that matter no one has any right to behave like this. It is setting a wrong example to the 32 crore people below the poverty line that force and misconduct can get you proper food, not just food. In no way should this conduct be forgotten or praised. It has to be condemned in the most strict manner possible.
Kumar Saptarshi, Founder, Yuvak Kranti Dal
Such behaviour is unacceptable
Terrorizing, vandalism, goonda-gardi, rioting, communal polarization, inflammatory speeches are legendary synonyms for Shiv Sena. The LS victory seems to have gone to its party workers' head much to the embarrassment of BJP and Modi sarkar. Even if we were to presume that the concerned MP didn't know the religion of the canteen supervisor, this rowdy and barbaric behaviour is unacceptable. But is difficult to believe that regulars at the canteen such as the MP's, were not aware of it. The opposition needs such 'loose balls' to take advantage of and give it a flavour to their advantage. This act is potentially dangerous for the nation's delicate socio-religious fabric which is sitting on a tinder-box. This incident is not going to serve well for relations with Pakistan and their rabid home-grown terror groups too, who may plan to retaliate. Loose cannons such as these elected reps must be reined in. Yes, if Uddhav – who has apologized for the incident – is to look politically correct eying assembly polls, he needs to make a strong statement by seeking Vichare's resignation. BJP can force this given their numbers.
Girish Deshpande, Citizen Activist-Local Governance
Vichare should resign
Everyone has the right to protest in a democracy and its setup in our country. However, protest doesn't mean assaulting someone or taking law in one's own hand. Vichare's act is an indication that political parties, especially regional parties are yet to cultivate themselves in how to behave as responsible public leaders. People expect today that their representative behaves in a responsible manner. Hooliganism is a sign of desperation. Uddhav Thackeray should definitely demand the resignation of Rajan Vichare to enforce accountability in Sena's cadre. It is equally reprehensible act that other parties are positioning themselves to draw political mileage out of it, especially Congress party. In the present international context, it would be highly irrational and politically disastrous to communalise this issue. Opposition parties should learn from its previous mistakes.
Vidyabhushan Arya, Political Analyst
It was an attack on labour class
Though the Shiv Sena MP's were right in voicing their demands for better facilities at Maharashtra Sadan in Delhi, the way they behaved with a worker was wrong. When the worker was saying that he was on a fast, to force him to eat a roti was wrong approach. The wrong behaviour of Shiv Sena MP, has ashamed Maharashtra on national and international platform. Though this behaviour does not have a communal connotation, it was an attack on the labour class. It shows that NDA has no respect for the hardworking labour class in the country. Shiv Sena should ask for Vichare's resignation for his misbehaviour with a worker at the sadan. On the other hand Congress giving this issue a communal or religious angle for political mileage is also very wrong.
Maruti Bhapkar, District Convenor, AAP
Take legal action on Vichare
Irrespective of what the religion of the other individual is, this kind of behaviour is not appreciated by anyone and should not be. It is an insult to an individual's dignity along with being an on-slaughter to his personal liberty. In my opinion this was an elaborate plan right from the beginning and was later blamed on the management to shield the misconduct. No one has the right to mistreat another individual whatever position one might hold. Now that the boy has complained against Rajan Vichare, the complain should be taken seriously and immediate legal action should be taken. There is no need for a resignation if the needful is done legally. As we all know Vichare has a long history and has 13 cases under his belt. Now that he is a member of parliament he should not have behaved in this manner. The main problem arises in the fact that Vichare is not even ready to apologise for his miconduct and so strict actions must be taken. He must be strictly prosecuted under the right law.
Ratnakar Mahajan, Congress Spokesperson