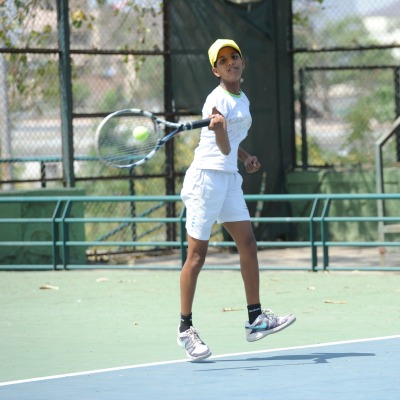 Pune: City's Anaya Thorat eased into the second round of the ATF Asian Under-14 Series Tennis Tournament at the Balewadi Tennis Complex here on Monday.
The eighth seed overcome Sayuri Garud 6-3 6-2 in an easy outing. However, Anaya's twin sister, Avyakta failed to make to the second round as top seeded Vipasha Mehra stopped the Pune qualifier 6-2 6-1.
Relying on her attacking forehand, Anaya was out there and won the first set comfortably. The scorching heat, however, took a toll on Sayuri as she managed to take only two games off the winner.
Avyakta, who is younger to Anaya by two minutes failed to put forth a good show.
Second seeded Ratuja Jadhav also of Pune scored a easy 6-1,6-0 win over Meghna Mallath to move into the second round.
In the boys event, top seeded Heman Namma survived three match points to regroup
himself and scrape past qualifier Tribhuvan Reddy in the boys event. While the seventh seeded Kyle Cummings was knocked out in the first round.
In the opening match, top seeded Heman came back from being 1-4 down and then 4-5 (15-40) to rally back and edge out qualifier Thribhuvan Reddy 6-4 1-6 7-6 (7-5) to enter the second round in the boys event. Tamil Nadu's Varun Vaiko toppled eighth seeded Kyle Cummings 6-1 6-2 also to make it to round two.
Following are the results: First round:Girls: Vipasha Mehra bt Avyakta Thorat 6-2 6-1; Anaya Thorat bt Sayuri Garud 6-3 6-2; Ratuja Jadhav bt Meghna Mallath 6-1 6-0; Naheed Khan bt Payal Nagare 7-6 (7-5) 6-2; Tejasvi Kate bt Salsa Aher 6-1 1-6 6-2; Ishwari Mathere bt Yarlagadda Khushi 6-0 6-0; Panya Bhalla bt Neha Mokashi 2-6 6-3 6-3.
Boys: Heman Nama bt Thribhuvan Reddy 6-4 1-6 7-6 (7-5); Neel Garud bt Siddharth Sable 6-2 7-6(11-9); Harshal Rukhiyar bt Arvind Kalyana 6-2 6-2; Poojan Desai bt Prasanna Bagade 6-2 6-0; Varun Vaiko bt Kyle Cummings 6-1 6-2; Tushar Sharma bt Sundar Arvind 6-3 6-3; Aman Patel bt S Saran Selvan 6-0 6-3; Amit Beniwal bt Siddharth Thakran 6-4 3-6 6-1; Vikrant Mehta bt Atharva Sharma 6-0 7-6 (7-2).