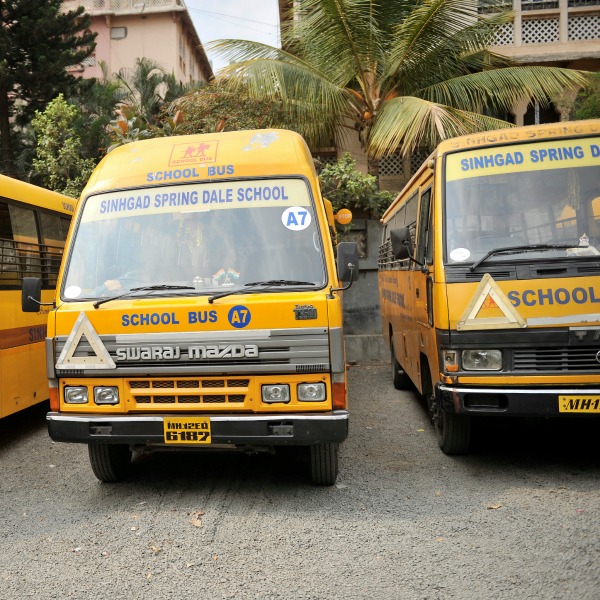 Pune: Its been three days when a four-year-old school girl was molested by her school bus attendant, but it seems that Pune Regional Transport Officer (RTO) is not all serious about curbing such offences.
On Wednesday, the RTO had called for an emergency meeting with school education board authorities. But, instead of taking some concrete steps, they fixed an another date to chalk out their plan of action for formation of school transport cell.
On Wednesday afternoon, representative of Pune RTO, traffic police department and education department held a meeting at city traffic police department office located in the premises of the commissionerate. The RTO officials, on Monday, had issued a notice to the education department for the meeting.
Speaking about the decision taken in the meeting, regional transport officer, Jitendra Patil said, "We will be holding a seminar in this regard in the last week of April. To decide our further plan of action, we will be holding another meeting on April 22, so that we can decide the date and venue for the seminar."
Patil added, "The main objective of the seminar is to educate the parents and school bus transport owners about the importance of forming school transport cell. Out of 2,187 private schools in the city, only 1,134 private schools have formed transport cell."
Taking their stand, the city traffic police department stated that they will be taking strict action against the school transport vehicles that are not abiding by the safety norms.
Deputy commissioner of police (traffic), Vishwas Pandhare said, "We have been conducting drives and educating bus owners to abide by the law. However, post summer vacation when the schools will reopen, we will be taking strict drive and cancel the permits of all the school transport vehicles that are not abiding by the school safety norms."
What does the rule say?
Number of kids allowed: As per the RTO rules and regulations, a private school van is allowed to accommodate only 12 school children, and the auto rickshaw is allowed to accommodate only four.
Transport committee: A transport committee should be formed in all the schools which are using transport for its students. The committee should comprise RTO officer, principal of the school, traffic police department and one representative each from the school transport and parents.
School bus safety norms: The school bus should have a fire extinguisher, speed governance, emergency exit, name of the school, first-aid kit, rods on the window.-
Auto-rickshaw safety norms: The auto-rickshaw can only accommodate four school children. The vehicle should have hard surface roof, fencing doors with locks on both sides.