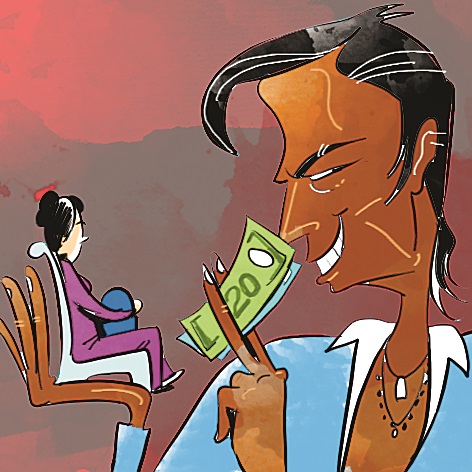 Pune: An SMS makes a lot of a difference. We have seen it when former Pimpri Chinchwad Municipal Corporation (PCMC) commissioner Shrikar Pardeshi used the service of sending bulk SMSes to twin town residents to create awareness on local body tax (LBT) and illegal constructions.

Taking lessons from the same, the economics offence wing (EOW) of Pune crime branch has roped in telecom companies and have asked them to send special SMSes to people in the city thus making them aware of cheating cases of credit cooperative society (CCS) and multi-level marketing (MLM).

The move has been taken to curb such cases which have drastically increased over the past few months. Thousands of people have been duped to the tune of crores in the recent past. As per the EOW records, 26 such cases have been registered at different police stations in the city and all cases are pending with the EOW.

EOW officers claimed that most of the cheaters do get arrested but later come out on bail. People need to be aware of such tricks in order to prevent such cases.

Senior police inspector Murlidhar Muluk of EOW said, "CCS and MLM cases are on a rise and it is a very disturbing trend. We have observed that most of the people fail to understand fraudsters' tricks and are falling prey to their fake promises. As a result, the fraudsters have managed to make huge money. Some of the fraudsters were arrested but later they were released on bail and since then they have started operating with new schemes. We can take action against these fraudsters only after we receive a complaint."

"Apart from the SMS service, we have also printed 5,000 pamphlets where we have explained the tricks used by fraudsters and distributed them to our beat marshals at the police stations. The beat marshals are distributing these pamphlets in residential societies," added Muluk.

Muluk said, "The amount involved in cheating cases has increased drastically. As per our findings, the share markets cheating cases are registered in Mumbai, Thane, Thane rural and Pune. In such cases, the fraudsters take money from investors. Also, fraudsters come up with fake schemes, lure people to invest in them and do not return the amount. In cases of CCS, the directors grant big loans to relatives and family members without taking any guarantee from them."



Recent cases

The EOW had arrested Sameer Joshi and his wife Pallavi for allegedly duping thousands of people in Nagpur, Amravati and Akola to the tune of a staggering Rs250 crore.

A retired government officer Krushna Dharamadhikari had lodged a complaint in December 2013 at Dattawadi police station. He was allegedly cheated of Rs4.5 lakh after the duo promised to double his investment in two years. As the police started its probe, 71 more investors came forward to reveal how they had been lured by Joshi. It turned out that these people had invested more than Rs5 crore in Joshi's companies. As the magnitude of the investment went up, the case was transferred to the EOW.

Joshi had appointed his agents in different cities who lured people promising to double their investment in just two years. It's a typical strategy- get a few to invest first, fulfill the commitment made to them and then use them to attract many more.

Joshi had also launched another scheme where he offered sky high interest for staying invested for three months. Several retired officials fell prey to this and invested huge amounts in Joshi's companies.