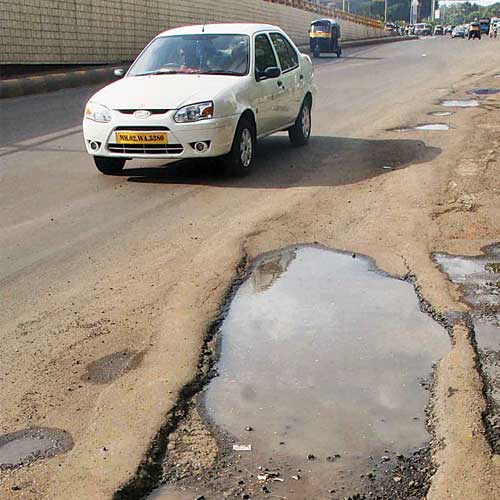 Pune: Commuters traveling on NH 4 will have to be brave as the National Highway Authority India (NHAI) has carried only partial repair work on the stretch by passing Pune, despite a written request by the Pune City traffic branch. The traffic police had instructed the NHAI to carry out urgent repairs before monsoon and even threatened to file case against the authority on charges of negligence.
The traffic branch in February had identified as many as 20 accident-prone spots on the Pune-Bangalore National Highway stretch . A detailed report on the causes of accidents was readied and road-safety measures were also suggested to NHAI, the agency responsible for road construction.
Deputy commissioner of police (traffic) Vishwas Pandhare informed dna that as many as 110 people had lost their lives on the highway in the last three years. Besides 110 fatalities, a total of 47 accidents, resulting in serious injuries to people took place on the highway .
"It is the most unsafe stretch of road passing through Pune and Pimpri Chinchwad Municipal limits. We had prepared a list of 20 dangerous spots and sent it to NHAI for repair. Unfortunately, the authority has not done much work and a lot of our suggestions and recommendations have not been addressed. We will file case related to negligence in case of accidents taking place in monsoon on the highway under our limits ," he added.
It may be recalled that police inspector S G Bhambure attached to the city traffic branch, had conducted a study of the road for three months. The report identified the accident-prone spots and causes of accidents. The traffic branch officials had invited NHAI officials to participate in the study.
The report further highlighted safety issues like absence of road signages, punctures of road median, absence of street lights, and absence of safe pedestrian crossings. The NHAI on its part had expressed it inability to carry out urgent repairs citing that it had no funds to carry out road repair work.