Ball bearings and nails were used in preparing the bomb, Pune Commissioner of Police Satish Mathur said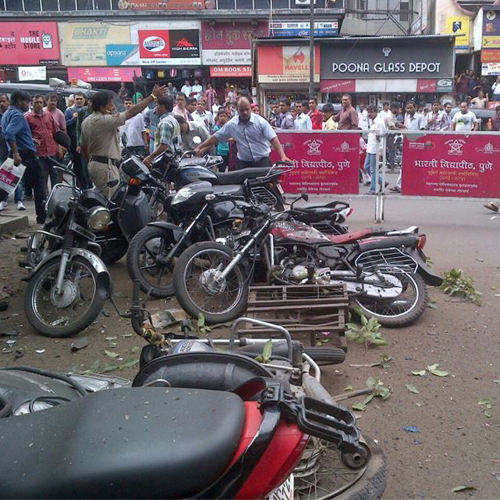 The minor intensity explosion that occurred in Pune on Thursday morning has been confirmed as a low intensity bomb blast by the Pune Commissioner of Police, Satish Mathur.
Ball bearings and nails were used in preparing the bomb, said Mathur. He appealed to people not to panic, and said that all sensitive locations in the city are put on alert.
Assistant RTO of Satara district said, " The bike used for the blast, numbered MH 11 AQ 7174 is owned by 'Dada Rajage' of Maan taluka, Satara district." The Satara police do not have any record of this bike being stolen, however the Pune police claimed otherwise.
The blast was reported at Faraskhana police station, behind the Dagdusheth Halwai Temple, after an object kept in the storage compartment of a parked motorcycle blew up. Two people received minor injuries.
Asked if the role of any organisation suspected, Mathur said it was too early to comment. Forensic teams are doing their job and all CCTV cameras across the city are being scanned, he added.
Two of the Injured persons were identified as Manisha Jadhav, the owner of a vada paav stall near the parking area, and 19-year-old Deepak Singh, who works at the stall. The third person injured is a police constable who was present in that area when the explosion took place.
An Anti-Terrorist Sqaud and a team of forensics are on the spot inspecting the damaged bike. According to preliminary information shared by police, the bike was parked in the parking compound of the police station.
"The forensic team will examine the spot and contents of parcel compartment of bike thoroughly to ascertain the facts. No other vehicles were damaged and some piece flew at a man having snacks nearby who received minor scratches," said a senior police official.
Meanwhile a crowd of onlookers had gathered at the spot and police were requesting them to disperse.