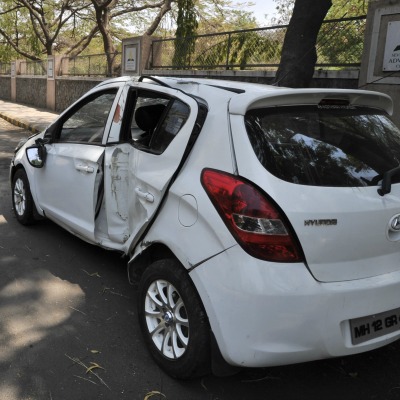 Pune: A period of merely three hours proved deadly for city motorists in the wee hours of Thursday morning as the city witnessed three separate accidents. While one person was killed, three others sustained serious injuries.
28-yr-old killed in Kothrud
In the first incident, a 28-year-old man was killed on the spot, after the two-wheeler he was riding hit an electric pole. The incident took place at Kothrud junction at 1 am on Thursday.
The police rushed him to a nearby hospital where he was declared brought dead. The Kothrud police have identified the deceased as Krishnakant Suryakant Thambulkar (28), a resident of Ashish Garden, Kothrud.
Three hurt in Market Yard
In the second incident, an over-speeding Hyundai I-20 (MH-12-GR-4068) hit a traffic signal pole at Giridhar Bhavan Chowk near Market Yard. The incident took place on Thursday around 12:30 am.
Senior police inspector of the Swargate police station Deepak Nimbalkar said, "The driver of the car was plying at high speed. When he approached near Gridihar Bhavan Chowk, he suddenly took a right turn. He then lost control over the vehicle and rammed it into a traffic signal pole." Nimbalkar added, "Three people, who were travelling in the car, received serious injuries. They were rushed to a nearby hospital. Two of them have been admitted in the intensive care unit (ICU)." They have been identified as Vishal Kumar, Deepak Kumar and Gaurav Chhajed.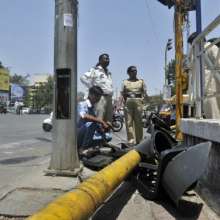 Hit-and-run at
Pune-Satara h'way
In the third incident, a heavy vehicle dashed a traffic signal pole at Utsav Chowk, near City Pride cinema hall on Pune-Satara highway. The incident took place at 2:30 am on Thursday. After hitting the traffic signal pole, the driver fled away from the spot. No one was injured in the mishap.