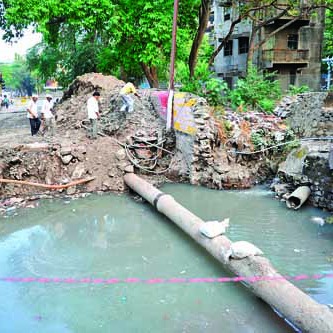 Pune: Though road digging in the city for laying cables is creating inconvenience for road users, the activity will also bring some revenue for the development work in the city. On Tuesday, the general body meeting of the Pune Municipal Corporation passed a resolution of not only increasing the road digging charges, but also collecting charges every year.

In order to increase revenues for the Pune Municipal Corporation, the civic administration had tabled the proposal of increasing charges from various companies who carry out road digging work for laying of cables across the city. The proposal was aimed at increasing one-time charges, but elected members made an amendment in the proposal, and suggested that the PMC collected charges annually. The revised proposal has been approved.

In the general body meeting, additional commissioner, Rajendra Jagtap said, "At present we collect road restoration charges from the private companies who dig up roads for laying of cables or other purpose. However in order to increase the revenue, civic administration came up with a proposal of increasing the road digging charges."

The proposal was to charge Rs3,600 per meter for laying cable through a PVC duct, Rs4,500 per meter for RCC duct and Rs2,500 per meter for fresh digging up of the road for laying cable purpose. Now, the companies will have to pay these charges every year.

When asked Pramod Nirbhavane, head of PMC's road department said, "There is a case going on regarding road digging work for cable laying, and therefore since today's resolution is related with the same issue, we will be submitting it to the court. Based on the court's order, we will implement it."

PMC has given permission of 3.5 lakh run meter of road digging in last three years, which means approximately one lakh run meter road is being dug up in the city every year.