Unauthorised structure of Hotel Pride demolished; `8.76 crore for repairing roads sanctioned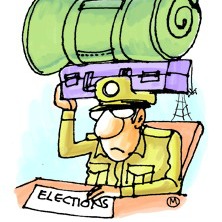 Pune: The Pune Municipal Corporation (PMC) has transferred four officials and lodged a police complaint against an official for forging documents that benefit hawkers under the national scheme for vendors. The PMC is in the process of issuing identity cards to hawkers with priority to the oldest based on records.
Standing committee chairman Bapu Karne told the media that these officials attached with nuisance detection squad and anti-encroachment department, offered fake cards and old receipts to some of the hawkers as a proof of their old business. He said this fraud came to light last week, during cross verification of data with PMC records, after which action against the officials has been initiated.
According to data provided by the municipal corporation, the city has around 18,000 vendors and hawkers (with and without licenses) and 7,500 licensed stall owners. The PMC had not issued licenses after 1997. Karne told the media that after the standing committee meeting, existing hawkers will be issued identity cards. Using these ID cards, hawkers can continue to carry out roadside business. PMC had declared no-hawking zones on 45 roads and 153 junctions in the city. The hawkers will be able to do business on other areas barring this area.
As a first step, the civic administration had formed a town vending committee (TVC) for registration of vendors in these demarcated areas. Fingerprints of all hawkers will be taken and their place of operation and business details will be noted down. This info will be made available online, using GPS and GIS systems to make sure that only registered vendors function in the allotted areas.
PMC on Tuesday demolished 14,350 sq. feet unauthorized construction of Hotel Pride at Ganesh Khind road which includes unauthorized shades in the front side and construction in basement. Deputy commissioner Madhav Jagtap informed media persons that 5000 sq. Ft construction on first floor was brought down by the hotel management and the rest was demolished by PMC anti-encroachment squad.
Standing committee on Tuesday approved an additional fund of Rs. 8.76 crores for repairing the roads by filling up the pot holes and resurfacing the roads when it already has sanctioned Rs. 40 crores for the same. Karne told reporters that the fund would be utilized for repairing major roads and the internal roads in the various parts of the city.