The entire Sheth family turned out at the polling booth for the big day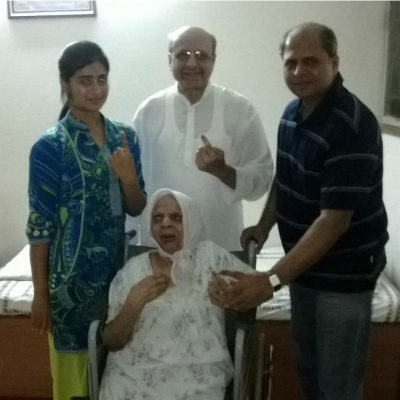 Pune: The various polling centres in the city saw a turnout of large number of people on Thursday.
The Nagarwala School at Kalyaninagar had one such family of four generations coming together to benefit their 'Right to Vote'.
The Sheth family which lives in Sunshine Court in Kalyaninagar came to the polling booth in the morning. The youngest of them all, Priyal Sheth (20) was quite excited to have all members of her family to vote together. She was there with her father Pankaj Sheth (47), grandfather Anant Sheth (76), great grandmother Kasumba Sheth (105) and the rest of the family.
"I am a first time voter but I am more thrilled to have my great grandmother come along to vote. I am proud of her and all of my family. They were so positive to cast their vote that I just couldn't deny voting myself," said Priyal Sheth.
Anant Sheth was very keen on encouraging everybody in the family to vote and he was very happy when his family got inked fingers. "I thought of asking my mother if she would vote in the morning and to my surprise she got ready for it instantly."
Kasumba Sheth has been a responsible voter since the time of Nehru. She had cast her vote each time. This is why she was adamant about going to cast her vote, though she was bedridden and had to go on a wheel chair.
"Initially my brother Dhiren and I had some problems to get our grandmother the voting slip as she did not have a photo identity, but later the polling officer guided us and she could vote. All the four generations voting from the same family was quite an inspiration to our family and friends. It was a memorable day for us," said Pankaj Sheth.