Guys, head to the kitchen now, cook up a surprise for the mommie in your life! Rupika Vatnani tells you how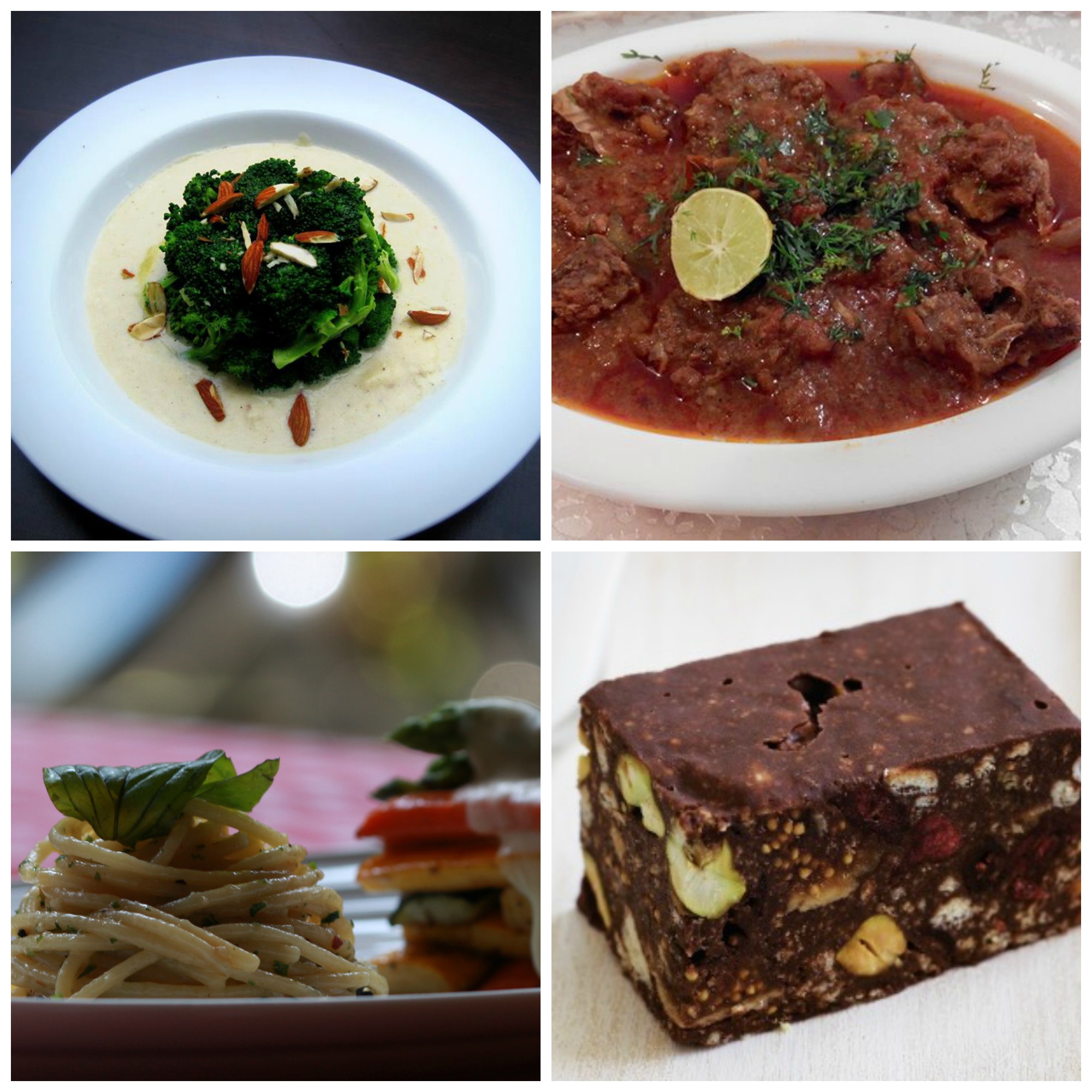 Here's an easy to dish out spread to treat your mom to. Happy Cooking and Bon Appétit!
Sautéed broccoli with mild cheese sauce


An easily done elegant dish of stir-fried broccoli florets served with a creamy cheese sauce.
Ingredients
Broccoli: 250 g, cut into florets
Cheese (processed/Cheddar): 100 g, grated
Milk: 200 ml
Garlic cloves: 6-8, chopped
Olive oil: 50 ml
Toasted almond flakes: 1 tbsp
Dried oregano, salt and pepper to taste
Method
For the broccoli: Blanch the broccoli florets in boiling water for 1 minute; remove and refresh with cold water. Sauté the broccoli in a non stick pan with all but 1 tsp of the olive oil, half of the chopped garlic, salt and pepper. Remove from heat; keep warm.
For the Cheese Sauce: Mix together the grated cheese and milk. Sauté the rest of the garlic with 1 tsp olive oil in a pan for 1 min; add cheese and milk to this. Season with salt and pepper, a pinch of oregano, and cook until cheese melts.
For the final dish: Put the broccoli in a deep dish, and put the cheese sauce around the broccoli. Garnish with toasted almond flakes. Serve.
Pesto Tossed Grilled Vegetables served with Spaghetti Aglio, Olio e Peperoncino


Another good-looking dish that's bound to impress. If pressed for time, store-bought pesto can easily substitute for fresh, but the latter brings out best flavours of the grilled veggies.
Ingredients
Spaghetti: 90 g
Garlic: 10 g, chopped
Chilli flakes: 5 g
Olive oil: 50 ml
Parsley: 1 tsp, chopped
(For the pesto)
Fresh basil: 100 g
Garlic: 10g
Parmesan: 50 g, grated
Pine nuts (use almonds, if unavailable): 60g
Extra virgin olive oil: 100 ml
(For the grilled veggies)
Butter: 50 g
50 g each of sliced zucchini (green and yellow), bell pepper (red and yellow), button mushrooms and asparagus
Mozzarella: 60 g, sliced
Salt and pepper to taste
Method:
For the spaghetti: Boil the spaghetti in salted water, till al dente. Sauté garlic in olive oil; add chilli flakes and some of the pasta water to emulsify. Season with salt and pepper. Toss the spaghetti with the prepared aglio olio e peperoncino sauce. Garnish with chopped parsley.
For the pesto: In a food processor, blend the garlic and nuts first, adding a little olive oil. Next, add the basil leaves and chilled olive oil. Blend well, until all the leaves are puréed. Tip the pesto into a bowl, and add the grated Parmesan cheese and seasoning.
For the grilled vegetables: Marinate all sliced vegetables with salt, pepper and olive oil. Grill the vegetables either on a grill or in a pan. Ensure the vegetables are grilled evenly from all sides. Toss the grilled vegetables with the prepared pesto in a pan. Arrange the vegetables in a serving dish, top with the cheese slice and grill or microwave until cheese has melted.
Serve the vegetables with the spaghetti on the side.
Recipes by: Tien, The Flour Works,
Hyatt Regency, Pune
Meena Vatnani's 2-Step Meat Curry

Ingredients:
Goat meat: 500 g
Onion: 300 g, chopped
Tomatoes: 250 g, diced
Garlic cloves: 6, mashed
Ginger: 2", grated
Green chilli: 3, chopped
Coriander powder: 2 tbsp
Cumin powder: 1 tsp
Garam masala: 1 tbsp
Red chilli powder: 1 tsp
Black pepper: a pinch
Green cardamom: 2 pods
Salt: 2 tsp or to taste
Vegetable oil: 5 tbsp
Chopped fresh coriander to garnish
Method:
Step 1: Mix all ingredients into a pressure cooker. Now, using your hands, massage all ingredients into the meat, squeezing the chopped onions and tomatoes, carefully avoiding the sharp edges of bones. Continue mixing thus for about 7 min.
Step 2: Close the lid of the cooker (no water to be added), and place over high heat; bring to pressure. When pressure is reached, turn heat down to low. Cook for about 10-12 min (cook longer for tough meat). Release pressure naturally. Give the curry a thorough stir, tip into dish; strew the chopped coriander on top. Serve with rotis.
Chocolate, fruit and nut bars
Recipe: The Flour Works, Pune Photo: Internet
Decadent dark chocolate, nut and dried fruit bars, that are chock-full of antioxidants. Go ahead, indulge yourself a little.

Ingredients:
Dark chocolate: 400 g, chopped
Cream: 250 ml
Marie biscuits: 200 g, crumbled
Raisins: 200 g
Dried cranberries (can be replaced by chopped dried figs): 200 g
Almonds: 200 g, roasted and chopped
Pistachios: 200 g, shelled
Method:
Take a 10 inch by 7 inch pan. Oil it well and line with butter paper. Add the cream to the chocolate and heat gently over a double boiler. Stir with a spoon until melted and smooth. Add the crumbled biscuits and the remaining ingredients to the melted chocolate and cream mixture. Mix and pour into the butter paper-lined pan. Cool in the refrigerator until set.
Cut it into 1.5x1.5 inch squares and serve.
The author is the Pune head for Food Bloggers' Association of India (FBAI). FBAI is one of India's premier online news channels on food, chefs, food events and food bloggers, and is an influencer that is making its presence felt across the Indian food and beverage electronic, online and social media space.