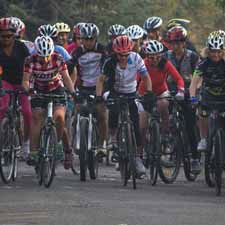 Pune: Stage is set for the 6th edition of the Giant Starkenn Pune Bicycle Championship (PBC) which is slated to be held on March 16.



This event will involve a climb of 12 km to Sinhgad fort from Donje village, informed Nachiket Joshi. The event is restricted to MTB and hybrid categories.



The race has the international flavour with riders from Russia, Israel, Germany, America, Norway, Holland and Scotland taking part in the contest.



The event is divided in following category on open men and women MTB (mountain terrain bikes), Open category men and women in Hybrid bikes, Youth (men and women) MTB.



Giant starkenn is the principal sponsor, awarding expensive cycle for the winner. The other positions will get attractive gift vouchers which enable them to choose prizes based on their requirements from the Giant Sprint Cycling world store at Sangam bridge.



Registrations are online at www.lifecycleonline.in and registrations are also being accepted at Lifecycle Mall, Tilak road and Giant Sprint cycling world, Sangam bridge. There will be a pre-ride briefing and distribution of riders bibs @ lifecycle mall on March 14 between 5 and 7 pm.



The race will be flagged off on March 16, at 6:30 in the morning from Donje Phata to Sinhagad top, while the prize ceremony will be held at Giant Sprint Cycling World.