Cops ask people not to travel alone on isolated stretches in Hinjewadi, Baner, Bavdhan and other areas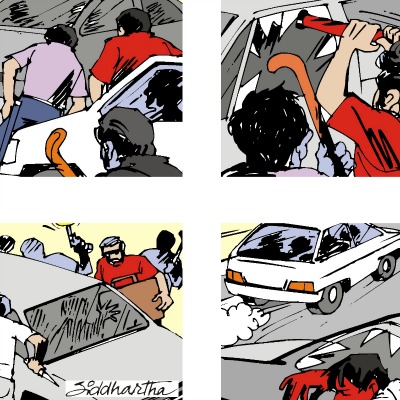 Pune: Travelling alone on the Hinjewadi, Baner or Airport roads late between 9 pm and midnight? Beware! Some people may try to stop your vehicle by picking up a fight saying that you have hit their vehicle; they could be road robbers.
A look at the statistics of robberies taking place on city roads, 35 cases in 2013 and 10 cases since January 2014, show that most of the robberies took place on isolated stretch of roads in Hinjewadi, Chatuhshringi, Bavdhan, Baner, Chandani Chowk and Airport road after 9 pm. A few cases took place in the afternoon as well with some robbers even taking the victims' vehicles with them to stop complainants from alerting the police.
What's worse is that it is getting difficult to detect such cases and valuables lost are often gone forever. In 2013, of the 35 cases only three were detected while in 2014 so far, only one case has been detected with the arrest of a gang from Solapur.
Asking people to be aware of the common modus operandi of robbers, additional commissioner of police (crime) Shahaji Solunke said that robbers mostly strike when people are headed home after late night at work or in some cases, during noon after withdrawing money from banks. "These robbers follow the person and when s/he comes to an isolated spot, they try to stop the vehicle by picking up a fight. Most of the time they target a motorist claiming that the victim has dashed their vehicle. After the victim stops the vehicle to have a chat over this, they start assaulting him and within minutes flee the scene with their valuables. Some commuters have even been robbed at gun or knife point. Many a time, robbers also take the vehicle so that the victim does not alert police."
He said most incidents take place on weekdays and particularly during night time from 9 to midnight. Most incidents have been reported from Hinjewadi, Airport, Warje Malwadi, Bharati Vidyapeeth, Sangvi and Chatuhshrugi police station areas."
Additional commissioner of police (north region) Prakash Mutyal said, "We have increased the patrolling in isolated areas. Recently, the Hinjewadi police arrested a gang which had come to the city from Solapur and looted a businessman. We suspect the incidents are taking on adjacent roads leading to inter-district highways, which help the culprits to escape easily. It could also be an inter-state gang."
Adl CP Mutyal giving some tips
People after their work stations must leave together groups rather going alone.
Avoid short-cut. If some one intercept vehicle or abuse do not pay attention.
Keep police control number on emergency dial along with other friend number so that one can help them.
Do not give stranger lift or stand in isolated area.
Be alert while driving and if culprit target raise an alarm.
This year in five months, this is tenth incident which have took place. On Wednesday around 2.30 pm, a sub-contractor Sunil Havale (29), a resident of Sai Satyam Park have allegedly looted by two unidentified persons on a motorbike at Kharadi and forcefully took away bag which contained cash of Rs 2 lakh.
Inspector (Crime) Sunil Gharge who is investigating the case said, "Havale is incharge of site at Lonikhand and also into collection of electricity bills from the residences. On Wednesday around 2 pm, Havale had withdrawn Rs two lakh cash from the Bank in Alka chowk area and was on his way to Khardi where he had to pay to labours working at the site. Two persons on a motorbike wearing black colour T-Shirt covering his face with incepted his way but putting the bike before him. Duo started abusing him and claimed that he had dashed their bike and run away."
He added, "Later they forcefully took away his mobile handset and even his glasses. They kept knife near his stomach and forcefully took away the bag which contain cash of Rs 2lakh. Due to low vision he was not able to see properly the two persons. But again after the incident duo ran away heading to Pune direction."