In 2010, as many as 3.53 lakh cases were registered by the traffic police against errant auto drivers in the city. By 2013, apparently most of them had been straightened up -- the number of cases had come down to just 2,430. Unbelievable? That's what the traffic police website says.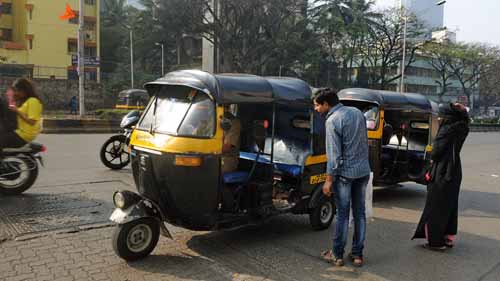 No commuter worth his salt in the city will ever agree to the conclusion since he is still rejected for small distance, he is still overcharged and the auto driver is still arrogant.
Despite a revision in fares recently, which increased the minimum fare from Rs 11 to Rs 17 in October last year, the Regional Transport Office (RTO) has received 977 complaints against autorickshaw drivers in the last 10 months.As many as 482 (about 50%) were related to refusal to ply, 150 complaints were registered for overcharging; 64 for rudeness and 33 for tampering with meters.

Pashupati Nath Singh (35), a resident of Kothrud said, "It is shocking to know that the number of cases is so less. There is not a single day when the auto rickshaw drivers have not refused to ply and even if they do, they ask for excess money. If the traffic cops are not going to take action, then the situation will remain same."

Commuters were hoping that the revision of fares would improve the services. But that's not been the experience of Manas Verma (29), a resident of Viman Nagar. "Despite a steep hike in fares, they still refuse to ply. What's the whole point of the fare hike then? And how come police don't want to file any cases?" he said.

On the other hand, the cops have been more stringent in action against erring two-wheelers over the last three years. From 1.68 lakh cases in 2010, they went up to 3.42 lakh in 2013. According to deputy commissioner of police (traffic) Vishwas Pandhare, the discrepancy in the numbers is because of the special drive they conducted against auto drivers and bikers.

"The number of cases against two wheeler riders seems more because we conducted special drive against them. Our action against bikers has been more intense. It's not that we have let auto drivers go scot-free. We take action as and when we receive complaint," he said.

Rickshaw Panchayat convener Nitin Pawar agrees the drivers still need to go the distance when it comes to courtesy and accepting fare. "We are working on them. We will also conduct surveys to see where the number of refusals are most and why," he said.