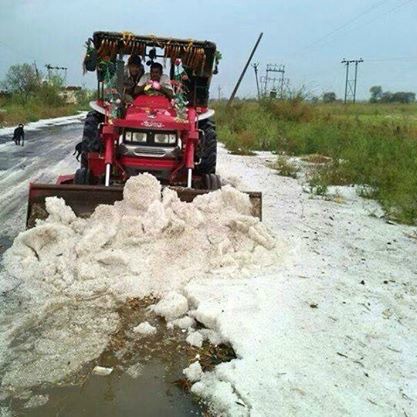 Pune: Terming the recent widespread hailstorm in the country as unprecedented, scientists and researchers have said, that though for the first time in the history, such type of hailstorms can be predicted.
Indian Meteorological Society's Pune chapter, along with the India Meteorological Department (IMD) held a national workshop at the Indian Institute of Tropical Meteorology (IITM) on Wednesday, where experts from the field of Meteorology spoke about the recent hailstorm that created havoc in central parts of the country.
During a presentation, JR Kulkarni, senior scientist with Indian Institute of Tropical Meteorology (IITM) said, "Such type of hailstorms are usual occur in foreign countries but it is perhaps the biggest hailstorm that we have witnessed in India. There are no records of any such widespread hailstorm with any Meteorological organisation."
Kulkarni said that it requires an extensive study to find out whether it is an effect of global warming, but it is clear that the hailstorm in wider parts of the country is because the freezing level in the atmosphere has come down, and the moisture and particulate matter lifted in the air form hailstorms.
Kulkarni said, "If the freezing level in atmosphere is coming down, it can be an indication that there is a possibility of hailstorm. By studying the freezing level and local conditions, a forecast of hailstorm can be given a week earlier."
Scientists and experts present at the workshop appealed to young researchers to record the recent activity of hailstorm, as it can be of great help in analysing the phenomena.