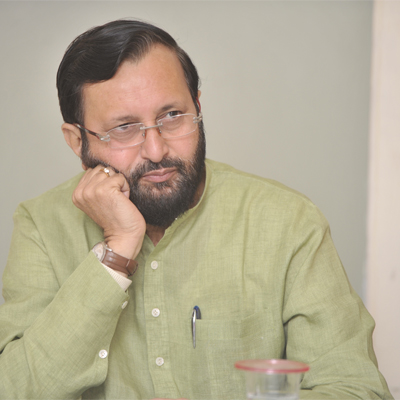 Revealing that a total of about 5,000 projects were pending for environment clearances, Union minister of state for environment and forests and climate change Prakash Javadekar on Sunday said that 200 defence-related projects would be cleared on a priority basis.
He was speaking to media persons in a meeting organised by Pune Union of Working Journalists (PUWJ).
PUWJ president Santosh Kulkarni welcomed Javadekar. Newly elected Pune Lok Sabha MP Anil Shirole and MLA Madhuri Misal, group leader in PMC Ganesh Bidkar were also present.
Pointing out that even the road works of the defence ministry on the border of the country was not being undertaken for the want of environment clearances, Javadekar said, "Our government will ensure that environment conservation goes hand in hand with development. The projects related to naval ports, roads in border areas, development work at the missiles development programme sites are being reviewed and all these 200 projects would be given clearances on a priority basis."
He said that he was part of a group of 500 MPs from 70 to 80 Nations which was running an organization for environment protection at the Global level and this experience of last 5-6 years would help him while carrying out his duties as environment minister.
Skirting the question on Lavasa and Western Ghats he said, "There is no project which is bad at the concept level but I will answer these questions after one month."
He said, "An impression is created that environment ministry is nothing but a speed breaker or road block for any project and our government will change this. I will work with an innovative approach and treat jungles as wealth generating heritage of the country and harness its potentials without exploiting the jungles."
Javadekar also said that he was confident that the Bharatiya Janata Party (BJP)-Shiv Sena combine would sweep the Pune assembly polls.
He visited his house at Vadagaon Dhayari where his mother distributed pedhas and fed him shira.
The Union minister had lost his father 100 days ago and said, "If he had lived for 100 more days he could have shared in this day with us."