City-based NGO will determine and set safety standards for the pools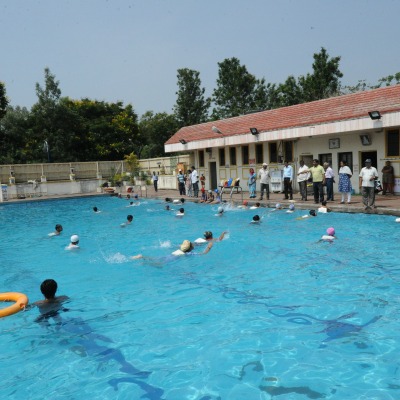 Pune: Barely two months after a city-based NGO's survey found that 50 per cent of the 80-odd swimming pools in Pune do not follow adequate safety norms, several cases of people losing their lives in the pools have come to the fore.
Following the tragic incident on Friday, where a woman died after a swim in the YMCA swimming pool, the Pune Municipal Corporation (PMC) has tied up with the NGO Rashtriya Life Saving Society to conduct yet another survey to determine and set safety standards for the swimming pools in the city. The survey, which is expected to get over by the month-end, aims at creating awareness among the swimmers and pool owners about the pool safety norms.
Speaking to dna, Shyam Shinde, operations and training manager at Rashtriya Life Saving Society said most pools are built on a make-shift basis, especially those in housing societies. "They do not follow any formal standards of safety such as installation of skid-proof flooring, presence of lifeguards, adequate fencing around the pool and placing signages around the pool. This survey will ensure that swimming pools keep records of previous mishaps, and instruct the swimmers about potential safety hazards before allowing them go into the waters," he said.
About the other parameters of the study, Shinde said that factors such as clarity and pH value of the water, the number of lifeguards present and their certification, rescue ropes, poles, rings and floats available around the pool will be taken into consideration. The survey will also check if the pools conduct regular filtration and servicing rounds besides certification of the lifeguards employed.
That aside, the NGO is training 5,000 lifeguards at their Yerawada training centre, who will be certified in a year's time. Shinde said, "As long as a person can swim, the management at swimming pools takes him on board as a lifeguard. These lifeguards are then made to look after the machinery around the pool and hardly have time for keeping a check on safety of swimmers."
The previous survey had been conducted independently by the NGO in February 2014. Shinde said, "One of the swimming pools we reviewed used tyre tubes in place of rescue rings. Another pool did not have certified lifeguards." He said that people do not understand that a swimming pool, which is even four-feet deep can be potentially hazardous, if safety standards are not followed. Even though a swimmer will not drown in a pool that shallow, in case of a fit or a cramp, it can prove fatal.