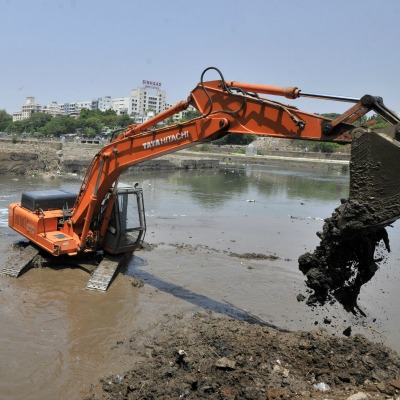 Pune: Now that only less than 15 days are remaining for Pune Municipal Corporation to finish off the pre-monsoon work, the Municipal commissioner Vikas Deshmukh himself inspected the locations and asked his staff to speed up the work. According to the PMC officials, the early pre-monsoon showers have created obstacles for the work and hence, they are having tough time in completing the work in given deadline. Deshmukh, on Friday, visited Parvati water works and inspected the work of the scheme which supplies 500 MLD water to the city. He also inspected the Ambil Odha in Dattawadi area to review the pre-monsoon nullah cleaning work as the Ambil Odha has a history of flood during heavy rains.
After the inspection Deshmukh said, "The deadline for finishing all the pre-monsoon preparation work is May 31 and considering that less than 15 days are remaining for the deadline, I have instructed the staff to speed up the work, particularly the work of nullah cleaning, resurfacing of roads." However, the PMC officials said that they are facing problems in completing the work due to the early pre-monsoon showers.
Suresh Jagtap, head of solid waste management of PMC said, "We have been cleaning all nullahs in PMC area but when it rains, the water carries debris from the hill areas to the lower part of the city which makes nullah cleaning work difficult. However, we are hopeful that we will be able to finish the work by May 25."
Apart from that, the road department of PMC is also carrying out resurfacing of various main roads. A PMC official said, " The deadline for the road work is May 31, we have managed to complete more than 60 per cent of the work. We are hopeful that we get dry period with less pre monsoon showers so that we can finish the work on time."