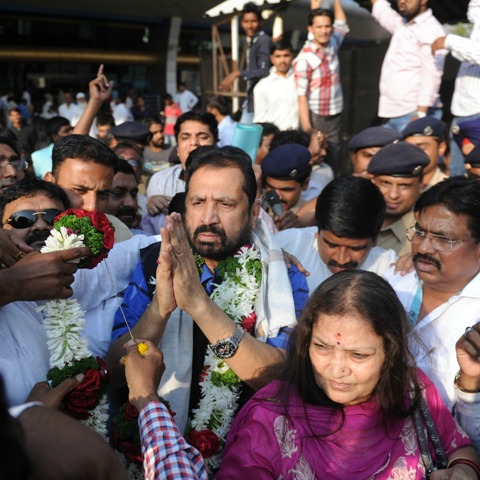 Pune: The million-dollar question whether Suresh Kalmadi would help Congress candidate from Pune Vishwajeet Kadam in the upcoming Pune Lok Sabha elections, remains unanswered.

Kalmadi said on Thursday said that he will be announcing his decision after talking to his supporters on Friday afternoon. Slogans like 'Sabse bada khiladi Sureshbhai Kalmadi' and 'Suresh Kalmadi aage badho, hum tumhare saath hain' filled the Pune Airport in Lohegaon when Kalmadi arrived there along with his wife on Thursday. Kalmadi is seeking a Lok Sabha ticket for his wife.

Deputy mayor Bandu Gaikwad, MLA Ramesh Bagve, corporators Sunanda Gadale, Lata Rajguru, Sunil Malake, Mukhtar Shaikh and Anis Sundke were present at the airport. Congress corporators from Pune Cantonment Board (PCB) were also present.

Speaking to media outside the airport, Kalmadi said that his supporters have sought his appointment and he will be meeting them at 4 pm on March 21. He would announce his decision then.

When asked on the options open for him, Kalmadi said, "I am not saying anything on this. I will have to talk to my supporters and then shall comment." Most of the supporters expressed confidence that Kalmadi would stand by party candidate Vishwajeet Kadam.

Key role in Kadam's appointment

It is interesting to note that though Kalmadi was suspended from the party in April 2011, party president Sonia Gandhi consulted Kalmadi before finalising the candidate for Pune. Maharashtra minister for forests Patangrao Kadam, father of Vishwajeet Kadam, had a meeting with Kalmadi much before the candidature was announced. It was Maharashtra Navnirman Sena (MNS) leader Deepak Paygude who got elected as MLA only after Kalmadi helped him from behind the curtains way back in 1995 to defeat Congress candidate and stalwart Prakadh Dhere.

Paygude had a meeting with Kalmadi recently for seeking his help for the Lok Sabha elections.