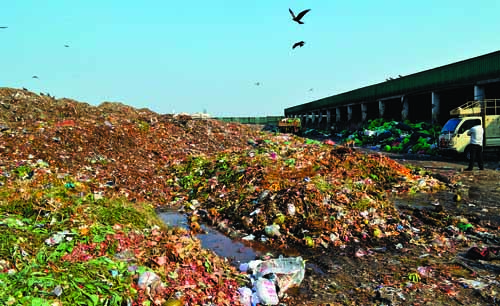 Issue of collection of garbage is likely to get from bad to worse in next two months as the meeting of Pune Municipal administration and the villagers of Uruli Devachi and Phursungi by union agriculture minister Sharad Pawar on Tuesday failed to resolve the issue. While the mayor of PMC said that the corporation will not be able to take any decision for next two months due to the code of conduct, the villagers have taken firm stand of not allowing opening dumping of garbage in the depot.
It has been nearly two months that the villagers of Phursungi and Uruli are opposing PMC from dumping unprocessed garbage at the garbage depots as it is causing health hazards to the residents staying nearby the depots.
Inspite of series of meetings between the civic administration and the villagers but the all the talks failed and the villagers started stopping garbage containing vehicles from dumping garbage which lead to piling of garbage in various parts of the city.
With series of talks failing, Sharad Pawar decided to intervene and he had called a meeting of villagers and the PMC officials on Tuesday at Baramati hostel. However, even after the intervention by Pawar has failed to resolve the issue.
Speaking to media after the meeting, mayor of Pune Chanchala Kodre said, " The civic administration has been asked to find additional open spaces where garbage processing units can be set and the the existing garbage depots will not have burden of processing entire garbage."
" However due to the code of conduct, the civic administration will not be able to take any decision for next couple of months and therefore we have appealed villagers to cooperate with civic administration and allow them to unload garbage at the depots," Kodre said.
However, the residents and the elected representatives have taken a firm stand and want PMC to process entire garbage. Shiv Sena MLA from Purandar Vijay Shivtare who has been opposing dumping of unprocessed garbage said, " We have been showing patience for last 22 years but PMC has failed in finding the solution and still they want us to wait for next two months to which we are not ready. We have taken a clear stance that unless PMC processes entire garbage, we will not allow them to dump open garbage."
Vijay Bhadale, of Kachra Depot Hatao Samiti said, " we will only accept the processed garbage from PMC and till the time PMC is processing the garbage, we are ready to cooperate."