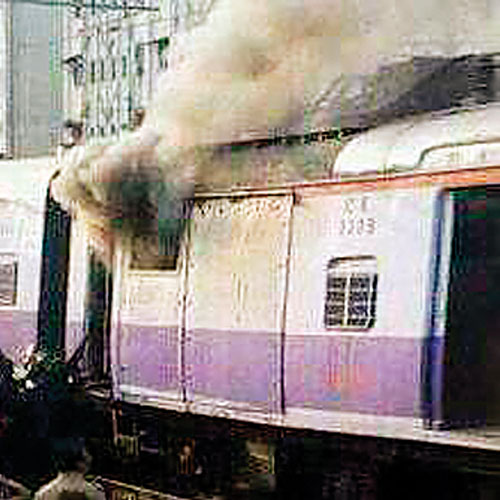 7 minutes prior to departure of Deccan Queen train that runs between Mumbai and Pune, onlookers saw smoke coming out of the D1 coach of the train as it waited on the Chhatrapati Shivaji Terminus in Mumbai.
There was hue and cry at the railway platform as the passengers started jumping out of the train. No injuries were reported. The daily commuters coming back to Pune from Mumbai were baffled by the chaos and were apprehensive to step into the train. Seema Gadgil a daily commuter was sitting in D2 ladies coach, sharing her experience, Gadgil said,"I saw there was smoke emitting from the coach, we ran out of the coach and realized that there was some technical fault due to which smoke was coming out."
Central railway Public relation officer, A.K. Singh said,"Due to short circuit smoke started coming out of the second last general coach of the train. We immediately cut the coach and took the train in the shed."
Singh added,"There was no casualty reported, the train departed for Pune at 6:10 p.m., in the process the train was delayed by an hour, we will be looking into the reason for the short circuit."
Another commuter, Charulata Kulkarni, said,"The train left from Mumbai about an hour late due to this, we were lucky as the smoke was detected just before the train was about to leave or else things would have been worst for us."
Although officials claim it to be a small technical fault, they could not ascertain the cause for it. Some passengers decided to not travel with the train any
Earlier too the deccan Queen Engine has caught fire and has seen delays.