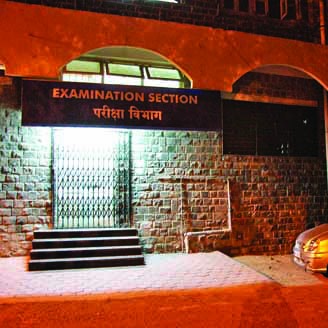 Pune: Citing security reasons over the outsourcing of examination work including printing of hall tickets, marksheets, printing them and even making convocation certificates, some senate members have said that the varsity is running the risk by making the sensitive data available to the outside people.

They demand that the varsity should stop outsourcing the work to and proposed to strengthen the house department instead.

Since the senate meeting is ensuing and scheduled to place on March 15, it is expected that there will be a storming debate over the examination department goof-ups and the reforms over the past few months.

Majority of the senate members and the deans of the various departments said that the goof ups happened due to mismanagement of the examination department and the outsourcing of entire examination process to the third party vendor.


While speaking about the outsourcing of examination work, one of the senate members, Santosh Dhore said that it is shameful for the university to handover the examination work to outsiders.

"When the varsity possesses all the required expertise and skills in the data processing unit, the examination department can set up the apparatus here and start processing the examination results on the campus," he said.

One of the officials who was associated with the examination department, said that when Dr Ram Takawale was the vice chancellor of the varsity, he had set up a data processing unit, envisaging that the university will be processing all the results and other examination work in the house. However, since the past few years, the varsity has stopped the particular department and started giving the work to third party vendors.

He said that they do not have any issues if the results are good by giving the work to the third party, but discrepancies are seen in the examination results time and again. "In all this, the only sufferer is the student," he said.

He added that currently, the entire work of examination processing by the third party vendor is happening in FoxPro version.


"My question to the university is that if we are paying hefty money to get the examination work done, then why not get it done with the help of the latest software versions," he said.

Dhore said that he would raise the issue during the upcoming senate meet and will seek explanation from the vice chancellor over this issue.

Dr Wasudev Gade, vice chancellor of the varsity said that gradually the examination process of making the results, will be started in house and they have already started the work phase wise.