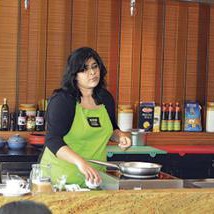 Celebrity Chef Rushina Munshaw who conducted a workshop in the city recently talks to After Hrs about how she started cooking and what food means to her
Coming from a wealthy Gujarati family, Chef Rushina Munshaw never learnt cooking till a few years back. It was only when she was married that for the first time her husband taught her to cook food. While staying in Mohali, taking care of her first baby, she met a friend online who introduced her to the food lovers and their community across the world.
Recollecting those days she said, "I used to find it really boring to just sit at home and do nothing the whole day. It was through an online friend that I developed a liking for reading and writing about food". After blogging about food for a while, it was only when she settled back in Mumbai did she start cooking and experimenting with food. Rushina believes that it is the lineage and the cooks that precede us; our mothers and grandmothers that make us the cooks we are. She was also slightly exposed to food and the cultures that influenced it when she worked in the travel industry.
The first thing she ever wrote about was a story on pickles after which she worked for a while as a freelance food writer. One thing that she kept thinking while writing about food was, 'How does our taste develop?'. And this is what pushed her further to experiment with food. Her love for food grew so much that even today when she has to remember people or events the association is always through food.
We asked her about the one Pune dish that she likes the most and she said, "I love the Misal Pav here." She also remembered roaming the streets of Pune with her friend collecting small recipe books which had the traditional recipes like bhakris and other Maharashtrian eateries. These books for me are what novels are to any ardent reader she added.
Rushina who runs a 'Kitchen Studio' in Mumbai was in the city conducting a workshop at Hyatt Pune, at Kalyani Nagar for the cities food lovers. She cooked for the participants a few of her favourite dishes from her book, 'A pinch of this and a Handful of that'. The preparations included her mothers, Dal Soup, Sun Dried Tomato Pasta, Clove scented Lamb in Red wine, Curry leaf fish and Tamarind Aubergine. The participants were given all the dishes to taste and got a chance to interact with Rushina post the workshop as well.