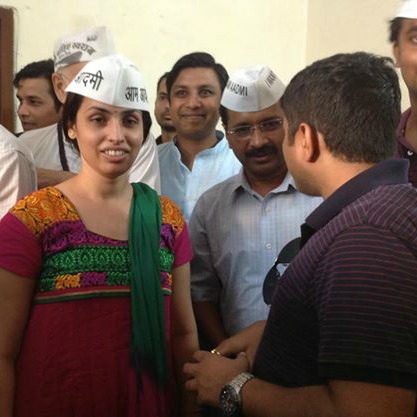 Pune: Two NRIs from the city have pledged their support to the Aam Aadmi Party (AAP). They have quit their job and studies abroad to come back to the city to further the cause of AAPs anti-corruption agenda.
Campaigning for Subhash Ware in the city, AAP's LS candidate for Pune city, Manpreet Kaur (35) has taken a break from pursuing her PhD in bio-technology, while Rohan Desai (30) has quit his well-paying job abroad. Residing in US with her husband, Manpreet hails from Amravati and her husband is from Pune. Desai on the other hand is a Puneite, with a degree in mechanical engineer, and was working in a US based-company.
Desai said that he had been religiously following the news of Anna Hazare's anti corruption campaign. "I was more curious to know if the law against corruption will ever be implemented in India. Later AAP's formation and growth under Arvind Kejriwal's leadership and the party's win in Delhi assembly election that shook the entire politics in India, surprised me. When Subash Ware was selected as AAP's candidate, I decided to come back to Pune."
Manpreet said that earlier, during the Delhi assembly election, she had taken a break and flown to India to campaign for Somnath Bharti. "This time I am back in India to support Ware in Pune. India needs political leaders with a clean image. Despite the fact that the AAP coalition government in New Delhi lasted for just 49 days, but during this period AAP has done a great job, which the present government has not done in five years," she said.