Revised fares will make extra hole in travellers' pockets on expressway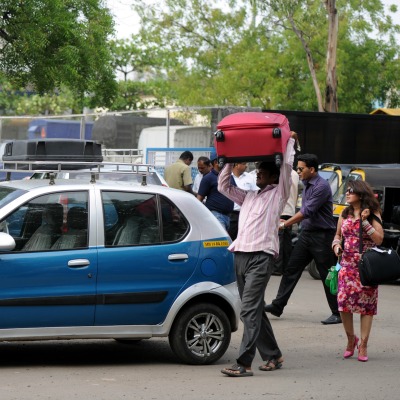 Pune: With the rise in toll charges on Pune-Mumbai expressway, travellers will now have to shell out more money to avail cool cab services on the route. Citing the reason of the revised toll charge and rise in petrol and diesel price, fares of Pune-Mumbai Cool Cab Service have been revised from April 1.
Pune-Mumbai Cool Cab Taxi Association has stated that as per the revised fares, passenger would now have to pay Rs475 for the shared taxi, as against Rs380, while the fare for entire taxi would cost Rs1,900 as against Rs1,520. There are around 450 cool cab taxies that ply on Pune-Mumbai-Pune route, of which around 200 ply on a daily basis.
President of Pune-Mumbai Taxi Owners' Association, Hardeep Singh said, "The rates of the cool cab have been constant for the last three years, despite the fact that there has been a steady rise in the fuel prices. Although the state transport department had approved the revised rates for cool cab service In October last year, we did continue to provide the service on old rates."
"With the increase of toll rates by Rs30 and fuel price going up, it was impossible to ply on the old rate. Increase in the fare hike is been nominal so that there is minimum burden on the passengers," added Singh.
Owner of the International Tours and Travel, Arshad Memon, said, "Even as the express-way toll rates have increased we will not be increasing the fare of cab that are plying on the Pune-Mumbai route. As of now the rate for shared taxi is Rs350 and for hiring the cab the fare is between Rs2,500 to Rs3,500."
But to much respite to travellers, who prefer Maharashtra State Road Transport Corporation (MSRTC), air-condition Shivneri buses over cool cabs, fares for the same will remain unaffected. Speaking to dna, divisional controller of MSRTC, Sailesh Chavan said, "Even after the hike in toll rates on Pune-Mumbai express-way, fare for A/c Shivneri buses plying on the route will remain unaffected. The current rate of the A/c buses plying on the route is Rs465, there will be no additional charge to this."
Passengers misery who will have to shell out more for traveling on Pune-Mumbai route.
Pranay Ajmera, (35), working professional, resident of Kalyani Nagar said,"Increase in the toll rates and then the fare of the cool cabs is just adding on to the burden of the common man. This increase in rates will only add fuel to the fire and common men like us are always at the receiving end."
Vaibhav Raut (29), IT professional, resident of Kothrud said,"Every weekend I travel Mumbai to visit my parents. The fare hike was unnecessary I will now have to think of other mode of transport as I will not be able to shell out Rs 100 extra every time I travel to Mumbai."
Girish Vij (33), working professional, resident of Hadapsar, said,"There is no option but to pay extra money and travel by cool cab, as the ac buses plying to Mumbai take extra time moreover there are hardly any trains that we can choose from if we have to travel to Mumbai."
New rates for cool cab from Pune-Mumbai-Pune (Cool Cabs).
Indica: Sharing: Rs 475 / Hiring the cab: Rs 1,900
Innova:Sharing: Rs 712 / Hiring the cab: Rs 2850
Private cabs : Sharing :Rs. 350 / Hiring the cab (Indica- Rs 2500 onward) Innova (Rs 3000 to Rs 3500).
MSRTC Shivneri buses: Rs 465