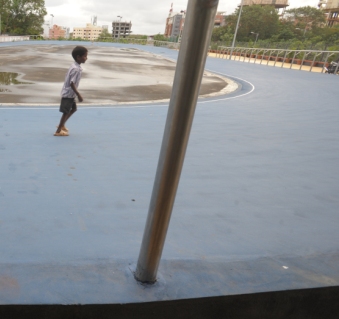 Pune: While residents of Koregaon Park have been opposing naming a jogging park after a local corporator's grandfather in Koregaon Park area, the residents of Vimannagar have also written a letter to deputy chief minister and demanded that they do not want the newly constructed skating rink to be named after any politician.
It is the state of art skating rink which PMC has constructed in Vimannagar area by spending over Rs 3 crore. The skating rink which has spread over two acres of area and according to the Pune Municipal corporation, the skating rink is of international quality which can hold national as well as international competition. The skating rink will be inaugurated at the hands of deputy chief minister Ajit Pawar.
However, before the inauguration only, Vimannagar residents have come together with a demand that they do not want this skating rink to be named after any political leader. Qaneez Sukhrani, convener of Vimannagar citizens forum said, "The rink will gain national and international focus because of the international quality of the construction of the rink. Therefore, we want the name of the rink to be simple and something which will not be associated with any politician or political party. As citizens of Vimannagar, we have demanded that the rink should be named as 'Vimannagar Skating Rink, Pune.' The minister should not ignore the demand of the citizens."
Earlier, the jogging park in Koregaon park has also landed in name controversy. The jogging park which is in the final phase of construction has a name board as Damodar Wagaskar which is the grandfather of local MNS corporator Rajendra Wagaskar. However, the members of Koregaon Park Mohalla Committee are opposing the name stating that it is not the official name of the park. Bishnupriya Chakravarti, member of the Mohalla Committee said that the corporator has put up the board of his grandfather's name but it is not the official name of the jogging park. We have already written a letter to the municipal corporation regarding the issue."