Traffic department's plan along the BRTS route on Shankarsheth Road, forces commuters to travel extra miles unnecessarily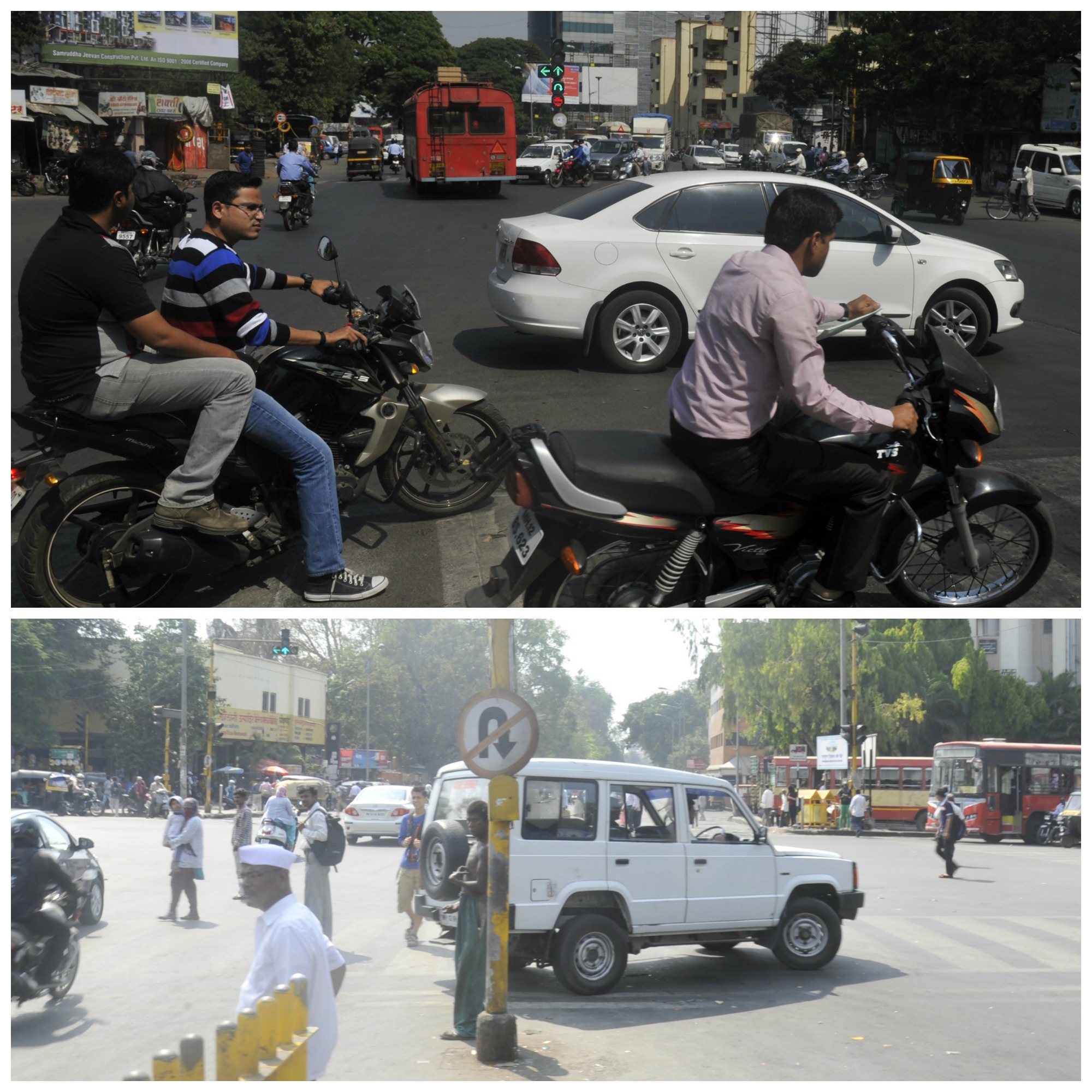 Pune: For a mere 300-metre long stretch of Bus Rapid Transit system (BRTS) corridor from Jedhe chowk to Vega Centre on Shankarsheth Road, the traffic police has applied two rules at two openings of BRTS corridor due to which regular commuters have to face lot of inconvenience.
Commuters traveling from Jedhe Chowk towards Vega Centre are allowed to take U turn from the open puncture at the Vega Centre where two different signals are installed, one for BRTS corridor and another for private vehicles.
However, vehicle users travelling from Seven Loves Chowk towards Jedhe Chowk, have to travel nearly two kilometres more just to go to the other side of the road as the traffic police have banned U turn at the chowk.
dna has been publishing a series on the various junctions in the city where traffic police have banned either right turn or U turn which is adding to traffic woes of the commuters.
Team dna did a reality check on Shankarsheth Road from Vega Centre to Jedhe Chowk and found that the commuters coming from Vega Centre wishing to go to the other side of the lane have to travel all the way to Sarasbaug and then have to take a right turn to reach to Tilak Road. From Puram Chowk, they again have to take a right turn to come back to Jedhe Chowk wherein they end up travelling nearly 2.5 kilometres.
The other way of going to the opposite lane is to take a left turn from Jedhe Chowk and go towards Lakshminarayan Theatre and take U turn from the chowk to come back to Jedhe Chowk which again requires a travel of nearly one kilometre.
As the commuters have to travel extra kilometres, most of the riders are seen ignoring the ban and taking U turn for their convenience.
What the traffic department says
Inspector AA Deshmane, incharge of Swargate traffic division, said, "Giving two different signals for BRTS and private vehicles near Vega Centre is relatively possible as there is not much vehicle movement. However at Jedhe Chowk, there is a tremendous flow of vehicles from all directions
Expert opinion
SCN Jatar, president of Nagarik Chetana Manch, said, "It is proved that making one way and banning U turns will not solve the problems. The traffic police department fails to understand that they are using the same old technique of making circular traffic movement to avoid congestion at a particular chowk. Traffic police should have a proper traffic management plan for the entire city before they make some changes."
Vox Populi
I have been travelling on this road since a few years but ever since they have banned U turn at Jedhe Chowk, it is causing inconvenience. Hence I try to avoid this chowk
Gaurav Deodhar, working professional
The BRTS corridor is adding to the traffic congestion and banning U turn at Jedhe Chowk is causing inconvenience. We have to travel nearly three kilometres to just go to the other side of the road
Satyajeet Jogalekar, college lecturer
My wife's office is at Seven Loves Chowk and whenever I come to drop her to office I have to take a round of the whole Swargate area. If the traffic police allow atleast two-wheelers to take U turn, it will be of great convenience.
Ravi Nadkarni, businessman