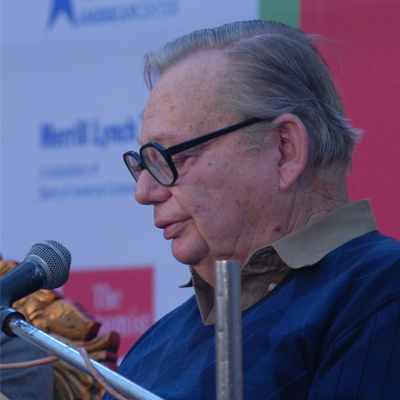 Famous Indian author and Padma Bhushan awardee, Ruskin Bond, enjoys guiding enthusiastic young children as much as he enjoys writing stories for them. Currently at his Mussoorie house, Bond is giving tips and tricks of writing to 5 children from across the country who aim to write their own book soon. These children got the opportunity to interact with the great author through 'child reading to child' competition organized by Landmark. dna spoke to the author to know his views on new age writers and the current literary scenario in India.
How do you see the literary scene of the country at present?
Though literature covers a wide spectrum to talk about; I am quite happy with the developments currently happening on regional level. Look at the number of literature festivals happening in the small towns. They give assurance of a bright future ahead. I think, we need to improve on the translation front. We have about 20-30 major regional languages. They have good books published there and also there are people who do not understand these languages but want to read these books. To facilitate it, we need good translators who will convert good regional literature into widely known languages like English and Hindi.
Are the new-age writers heading in the right direction to make it better for book-lovers?
Nowadays getting a book published is not as difficult as it was 20 years back. There is a good number of promising writers around. They are doing fine. Writers like Amish Tripathi, Chetan Bhagat are quite successful in the country. Amongst the younger generation, I find the work of writers like Amitabh Ghosh, Amit Choudhary promising
Are we still lagging behind when it comes to children's literature?
Thankfully children's literature is getting better these days. More writers are taking it up and they are quite serious about it. Popularity of books like Harry Potter and Wimpy Kid is and indication of that. Kids are getting more options to read these days which is needful for them to keep the reading habit alive.
Who are your favorite writers?
From my school days I like Charles Dickens, Graham Greene and other Russian writers. As a reader, personally, I am fond of reading short stories more than novels.
Your work ranges from children's literature, love stories, novels and short stories. Which is the genre you prefer writing in?
Though I am currently working on a full fledged adult novel, I enjoy writing short stories a lot.