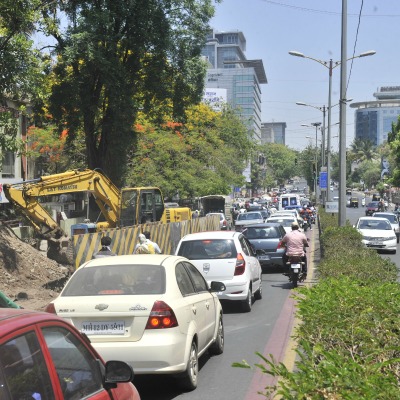 Pune: The laying of water pipeline from SNDT College to University of Pune will be halted for two months due to the monsoon. The work which began 20 months ago has now become a headache. The commuters will face the problem as the project will be completed only by January 2015.
A few weeks ago, dna had reported on the issue of traffic menace after which many regular commuters urged to review the situation.
PMC officials said that the pipelines installed in the Chatuhshringi area are over fifty years old and the encroachment in that area has resulted in the leakages in pipeline. "Due to the rainy season, the work has been suspended for two months. It is a fresh tender which we received late, hence it will take time to finish the work," said Madan Adhari, superintendent engineer of water department of PMC.
Amit Paralikar, a resident of Deep Bangla Chowk, feels the ongoing work has led to chaos. "Since the road connects points like University Road and Law College road, it is always crowded. The work of laying the pipeline has not only resulted in heavy traffic during peak hours, but also increased the risk for pedestrians as they have to walk on the main road as the footpath is inaccessible," he said.
The project has led to grave issues like air and noise pollution. Bhairavi Vaidya, a college student, and a resident of Kothrud is irritated as the incomplete work has increased the pollution level. " I face a lot of traffic problems, even the roads have become uneven and chaotic. The pollution and noise causes irritation and bad mood. It also takes me extra 20 minutes to reach college," she said.
Purva Sohoni, a daily commuter of SB road, complained the work has taken a toll on her health. She said that the traffic congestion and pollution created by this project is failing Pune as pensioners paradise and city of luxuries.