This young artist from Pune cartoonizes the desi elements of India, dashes them with creativity and cooks up a quirky, colourful and "verry" Indian art. Sheetal Soni meets Vikram Nandwani, the cartoonist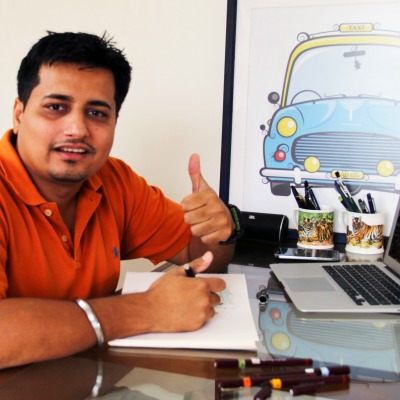 Vikram Nandwani is an indophile and that's exactly what he reflects in his work too. He "draws" (literally) inspiration from the different colours, traditions, cultures and diversity of our country, and tries to grab the comic side of the Indian way of life in his art.

From consulting to cartoons
Vikram's journey has been just as interesting as his creations. As a child he drew his inspiration from the creations of Walt Disney as well as famous comics like Calvin & Hobbes, and MAD. In his 12 years of experience, he has hopped from being a nine to five employee at an IT company to turning his passion into a full time profession. "I have passed up several opportunities but it's alright because now I do what I really love," he says. In 2009, he started 'Verry India', cartoon series that reminiscences scenes of daily life in India that are fast disappearing as the country urbanises rapidly. It catalogues it's idiosyncrasies, irony and ingenuity. His label has already expanded to include a team of artists that now work with him.

Pens it, paints it & he blogs it
His blog also embodies his love for India, where he talks about social issues, political drama, Indian values and things that could only happen in India just like his cartoons which capture daily life and scenes such as a milkman on his bike every morning, barbers under trees, the cranky ambassador cabs or the overcrowded village jeeps and so on… "My blog is where I express my disbelief, amusement and also my cynicism sometimes about things that happen around me."

What's next?
He has been traveling to different cities in India, each city a new inspiration and a new canvas to draw on. "First year was slow, but now I am doing a lot of work in diverse areas like political cartoons for news websites, merchandising and designing quirky products, illustrating books, cartoon strips for corporates for internal communications, and art workshops for children."
Visit his blog www.pointblankcartoons.com