Flex Poster was put up with a Nationalist Congress Party(NCP) MP Photo congratulating Narendra Modi.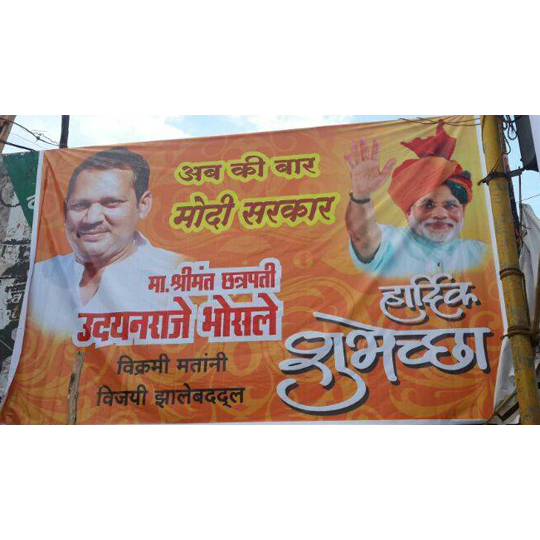 Satara: Post election hoarding congratulating the elected MPs have become a common sighting, however a particular hoarding has caught peoples' eye for all the wrong reasons. The hoarding is question is that of sitting Member of Parliament, Udayanraje Bhosale from the Nationalist Congress Party(NCP) congratulating Narendra Modi of BJP.
The hoarding which reads "Abki Baar Modi Sarkaar" literally has a picture of Udayanraje Bhosale and Narendra Modi stating "Hearty congratulations on being victorious by majority votes."
Even though it unclear as who put the hoarding up, it became the topic of discussion among members of the NCP and has eventually led to the hoarding being taken down.
Udayanraje Bhosale wasn't available for a comment; however a statement was released stating that he played no role in the putting up of this hoarding.
Source: http://zeenews.india.com/marathi/news/pune-western-maharashtra/modi-photo-on-ncp-mp-udayanraje-s-hording/170136