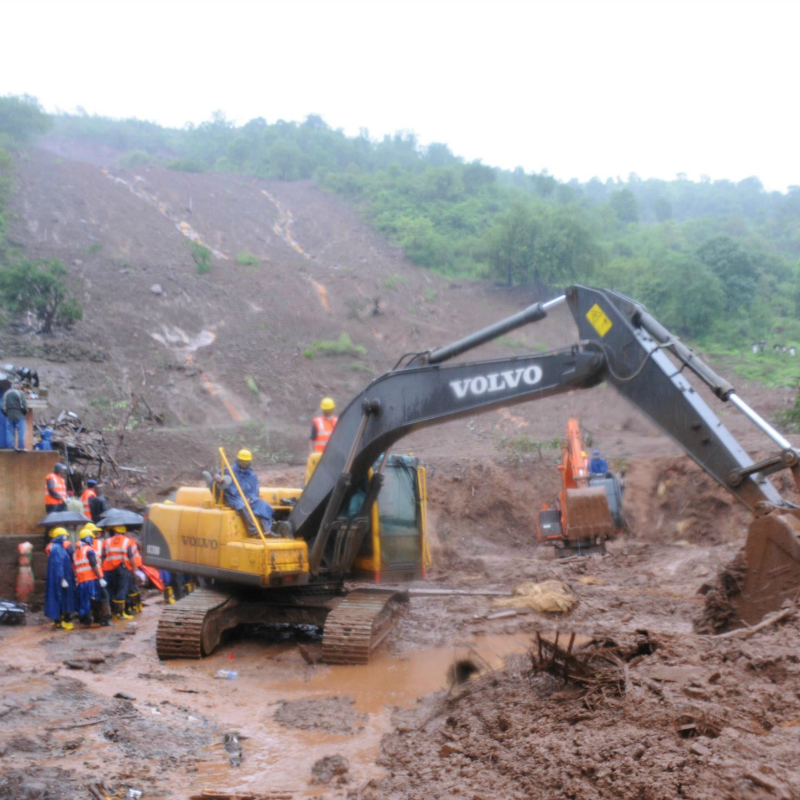 Pune: While the continuous rain and muddy area is causing great hurdles for the rescue teams at Malin village, the National Disaster Response Force (NDRF) is making use of state of art equipment like human life detector system and unmanned aerial vehicle known as Netra to find people trapped under debris.
After receiving the call of landslide at Malin village of Ambegaon Taluka, the fifth battalion of NDRF situated at Talegaon Dabhade initially sent its two teams equipped with search and rescue equipment and canine squad. However after the team of 100 personnel reached the spot, they realized that they have a daunting task with almost everything covered in tonnes and tonnes of mud and the equipment they were carrying were not enough. They decided it was time to call in the human life detector and Netra- an unmanned aerial vehicle to give them a bird's eye view of the Ground Zero. They immediately called for reinforcements and eight teams were sent in with what the team from Malin had asked for.
"The equipment include human life detector which helps the team to detect the heart beats of persons trapped under the debris. Our task then becomes saving the lives first and remove dead bodies later. Apart from that we are also using the unmanned aerial vehicle popularly known as Netra which has a camera fitted inside. The Netra is operated using a remote control and it can give the bird's eye view of the disaster site so that our teams can get a broad picture of how and where the rescue operations can be carried out," said an official from the NDRF.
The biggest handicap however has been the continuous rain and total lack of connectivity. "The rainwater is pressing the mud further down and it is creating problems for us to extract bodies. There is also no network for the mobile phones where we can keep in touch with the base. We are using our radio frequency handsets to communicate," said the NDRF officer.