Set the stage for IT product start-ups in Pune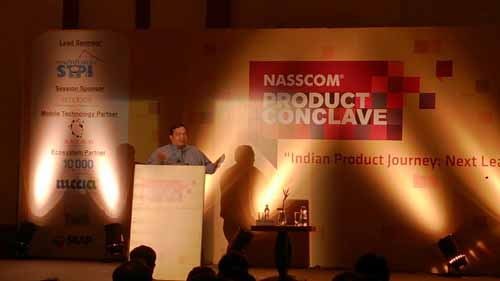 Pune: Information and software industry body, NationalAssociation of Software and Services Companies (NASSCOM) launched its first regional edition of the Product Conclave conferences in Pune on march 5,2014. Informationtechnology consultants, Start-up gurus and Entrepreneurs as well as C levelexecs attended the product Conclave to gauge the product scenario in the IndianMarket and set the context of its future. The day long conference took place at the Westin Hotel andsaw about 400 audiences interacting with the speakers, exchanging ideas andtaking note of the latest product innovations in IT. At the kick-off of NPC ,Ravi Gururaj, chairman of the NASSCOM Product Council said, "It's a greattime to be a product entrepreneur in India with the increasing buzz in domesticmarkets, rising interest in Indian start-ups by overseas investors andimprovement in the overall available infrastructure." The focus of NPC Pune was to set a stage for Indianstart-ups and emerging companies to access knowledge & support available inthe ecosystem on building their markets, create performing teams and securefunding. The Pune Edition had a special focus on product entrepreneurship; itschallenges, operations, branding and opportunities for growth. Mukund Mohan, CEO-in-residence of Microsoft Acceleratorshared a framework for marketing and sales that he perfected over the years."We have excellent engineers who build innovative products and this frameworkwill help them get early sales traction, acquire and engage customers and getleads within start-up budgets." Vishal Gondhal, Founder & CEO at GOQii Inc that works inthe field of wearable technology, inspired many with his talk Exiting andStartin up again. On the topic of starting a new business he said, "Every exitis an entry somewhere else" Akancha Srivastava, Founder and Director, Azure talked abouthow brand building for star-ups and brand ownership could transform a greatproduct idea into a full fledged business. "Branding is an exercise that shouldstart the minute a great product idea is conceived." pressed Srivastava. Another key area of focus was the cloud space where in TheConclave selected and showcased some of the most promising cloud productcompanies that have captured a global market with their innovative products. To foster the product development culture and relatedeco-system Software Exporters Association of Pune (SEAP) and Institute ofProduct Leadership (IPL) also announced the 'SEAP Scholar Program' at TheConclave. "The motive behind it is, to recognize and encourage talentedproduct professionals in IT/ITES industry to drive Product Leadership fromPune." said Prashant Pansare, Vice President of SEAP. The chosen scholars willreceive 75% subsidy in the prevailing fees for the MBA at IPL. According to Nasscom's Strategic Review 2013 the IT industryin Indiaboasted grand revenue of more than $108 billion while employing over 3 millionpeople. With about 25% of export revenues and 11% of service revenues beinggenerated by the software industries in 2013 it is only obvious for the NPC tocentre-stage Product start-ups and innovative products. Gururaj anointed Puneas a fast emerging strategic hub for Indian Startups placing the global ProductInnovation map, "We are confident that this conclave will enable entrepreneursbased in this region to setup and grow their businesses and contribute to India'sgrowing economy."
People' s Choice Awards showcasing Top 5 Products in theNASSCOM Emerge category were also announced during NPC Pune. Companies that took the coveted 5 places were,
1. Ascent Informatics (India) Pvt. Ltd for PlantConnect, a web-based platform for real-time monitoring and control of industrialdevices.
2. kPoint Technologies for 3 product offerings which are in the online communicationspace.
3. Qualitia Software Pvt. Ltd. for Qualitiais a completely scriptless test automation platform built over Selenium to help QA teams to build the most sustainable test automation in quick time.
4. Nirmantra Technologies Pvt. Ltd.for Instaclique that converts casual browsers to buyers.
5. Savetime Technologies Pvt. Ltd. for Savetime Android App that searches closest doctors and medical help.