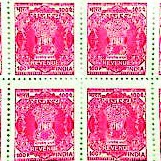 Pune: The RTI activists and those who need Rs 5 and 10 court fee stamps have a good news, as shortage of these stamps is coming to an end. The Nashik Security Press which prints Rs 5 stamps has supplied 1.80 crore Rs5 stamps to Maharashtra, last week.
Addressing a press conference on Friday Inspector General of Registration and Controller of Stamps (IGR) Dr Shrikar Pardeshi told that shortage of these stamps was a national problem. Pardeshi added "Nashik Security Press which prints Rs 5 stamps and Hyderabad Security Press which prints Rs 10 stamps have shortage of the particular type of paper on which these stamps are printed. Now since the Nashik Press has provided stamps and distribution of those would be completed to all the districts in a week's time, people would not feel the shortage at least for some time."
He told that after the follow up with both the presses, Nashik started providing Rs 5 stamps and has sent 50 thousand sheets on April 20, 30 thousand sheets on May 9 and 60 thousand sheets on June 12, 2014 to Maharashtra. Pardeshi informed that one sheet contains 90 stamps and Maharashtra has received 1.98 lakh sheets on July 18, 2014. The state has received 3.38 lakh sheets so far and state would need 6.40 lakh sheets between April and September 2014. He told that those who need Rs. 10 stamp would have to carry on with two Rs. 5 stamps.
Revenue generator
The slow down in real estate market has resulted in arresting the natural growth of registration of property documents at IGR office. Pardeshi informed that there is a natural growth of 5 to 10 per cent but this natural growth is not seen and we have attained a plateau with a figure of 24 lakhs for last two years. The revenue for the year 2012-13 was Rs. 17,400 crores while the same for 2013-14 is Rs. 18,600 crores and this increase is because of Ready Reckoner price rise.