Constituency with rural-urban voter base will be an uphill task to win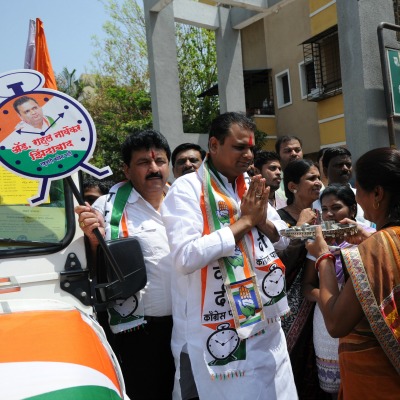 Pune: With no clear edge to any particular candidate, the battle for Lok Sabha seat in Maval constituency paints an interesting picture. As the quadrangular contest in the constituency catches heat, the candidates will have issues such as illegal constructions, increasing criminal activities and providing basic infrastructure including road and water, to address and fix in Maval, which has a healthy mix of urban and rural voters in its kitty.

Maval's issues
Maval is made up of six assembly constituencies namely Pimpri, Chinchwad, Maval, Uran, Karjat and Panvel where Nationalist Congress Party (NCP) enjoys dominance. With a healthy mixture of urban and rural areas in the constituency, the region also has a set of diverse the issues across different class of voters from the constituency.
The urban area of Pimpri-Chinchwad has a huge problem of illegal constructions, which has been highlighted at the state-level and all the candidates seem to be taking cautious steps when addressing it. On the other hand, politicos have drawn ire of residents of Karjat and Panvel after the areas had been declared as an eco-sensitive zone, creating restrictions in construction activities. Residents of Panvel are also waiting for the long-proposed international airport, which seems to be a distant dream even now. The other areas in the constituency such as Uran is struggling for even basic infrastructure such as roads, traffic congestion, and water. Maval, which falls in the rural belt of the constituency, has its set of sensitive issues, especially the after police opened fire on farmers.

Who's in the fray
With all these challenges starting politicos in the face, parties have their to face it's own set of internal challenges, right from selecting the appropriate candidates. The NCP, which has enjoyed domination in the constituency, received a big blow, when their main contender, Laxman Jagtap, refused to contest on NCP's seat, citing that the party has failed to address the issue of illegal construction in PCMC area. Jagtap has chosen to contest independently, and has backing from the Peasants and Workers' Party, which has its strong-hold in the Konkan belt. In addition to PWP's support, MNS also has Jagtap's back. Struggling to find a right candidate for Maval, the NCP had to poach Rahul Narvekar from Shiv Sena. Deputy chief minister Ajit Pawar has even asked all corporators to extend support to Narvekar.
Although Shiv Sena is ruling the roost currently, but sitting MP Gajanan Babar was denied a party ticket. The Sena decided to go with ex-CongressmanShrirang Barane instead. Dejected with the party's decision, Babar recently joined MNS, and is likely to stand up in favour of Laxman Jagtap, as MNS has openly declared to extend support for Jagtap's candidature.
Among all these heavy weights, Aam Aadmi Party will also be fighting for Maval with the former Shiv Sena candidate Maruti Bhapkar. Bhapkar's image of a man with a simple lifestyle backed by the support of social activists from the area will add to the party's confidence.
Previous elections
The Maval constituency for Lok Sabha was formed in the year 2008 based on the recommendations of the Delimitation Commission of India. After the formation of new constituency, Maval went for its first ever Lok Sabha elections in 2009. The election witnessed straight fight between Shiv Sena's Gajanan Babar and NCP candidate Azam Pansare. Babar came victorious in the election with 3,64,857 votes while Pansare got 2,64,238 votes.
The other interesting battle that the citizens of the constituency has witnessed was at the assembly election when Laxman Jagtap had defeated congress candidate Bhausaheb Bhoir in 2009. In a seat sharing between Congress and NCP, the Chinchwad assembly was given to congress and the party had given ticket to Bhoir, but Jagtap rebelled and chose to contest independently and he went on defeating Bhoir.
Voters scenario in 2014
Maval is a constituency which has mix of urban and rural voters. The part of Maval constituency which comes under Pune district has 10,95,308 voters in which maximum are male voters. The Maval assembly has total 2,68,352 voters, while Pimpri Assembly has 432860 voters and Chinchwad assembly has 355828 voters. In the last Lok Sabha elections, Maval had witnessed 40 percent of the voting but this year, the voting is expected to increase.