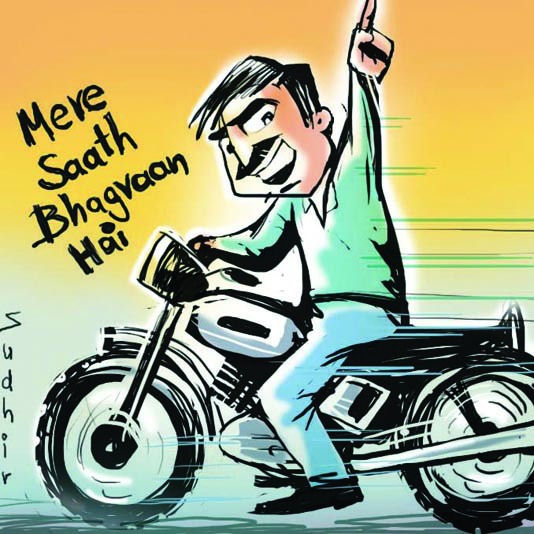 Pune: The Pune police commissioner has decided to deal with motorists head on. With over 200 deaths of riders without helmets on an average each year for the last couple of years, the city police has decided to make helmets compulsory for motorists. They are planning to fine riders sans helmets Rs100.
Barely a few weeks ago, Pune police commissioner Satish Mathur had hinted at making helmets compulsory in the city. In a press note issued on Saturday, the traffic department has stated that it will start fining motorists Rs100 from Monday, if found riding without a helmet.
According to the traffic department figures, 211 helmet-less riders lost their lives in 2013 compared to 208 helmet-less riders who were killed in 2012. This isn't the first time that such an idea has been floated. From the inability to see traffic coming from behind to suffocation and even inability to hear horns, a lot of excuses were given by Punekars for not wearing helmets and even several groups have protested about making helmets compulsory in the past. It remains to be seen how successfully this move will be implemented.
Meanwhile, deputy commissioner of police (traffic), Vishwas Pandhare, said, "Our main aim is to spread awareness amongst citizens. Merely one out of five motorists wear helmets." He added that on an average, 2,500 two-wheelers in the city are fined for rash driving, riding triple seat, and for talking on mobile phone while driving.
SCN Jatar, president of Nagarik Chetna Manch, said, "It is essential to educate people about the importance of wearing helmets. But, if they want this to be implemented successfully, it needs to be a sustained drive like in other cities."

Vehicle population in Pune and Pimpri-Chinchwad till March 2014
Type/ Pune/ PCMC/ Total
Motorcycle/14,74,834/7,17,300/ 24,92,134
Scooter/326899/ 112588/ 439477
Moped/1,94,712/ 37,550/ 2,32,262
Total:28,63,873
Number of riders who lost their lives for not wearing a helmet in the past three years
Year: Drivers
2011: 206
2012: 208
2013: 211